Recipes
Charred Asparagus with Citrus Bagna Cauda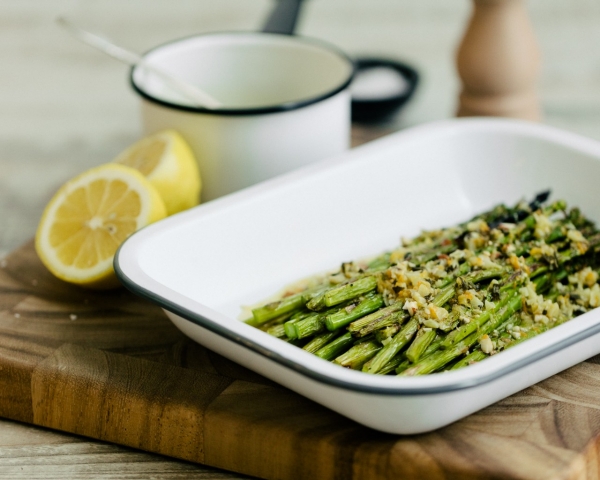 This is the perfect way to eat asparagus! Charring it in the oven gives it a roasty, nutty flavor and a lovely al dente texture: It's nice and tender, and yet it retains a lot of its snap. It'll give you a squeaky crunch when you bite into it. We love the asparagus under a lush coating of bagna cauda — toasted almonds, loads of garlic and citrus, and a couple anchovies bathed in warm butter and olive oil. Here the anchovies are not overwhelming, they give the bagna cauda just enough deep, salty umami, to set off the grassy asparagus.

This dish is simple and wonderful all on its own, but once you've eaten it, you'll find yourself working it into other meals. It makes a splendid brunch dish: just put a couple of poached eggs on top of the asparagus. We've also chopped the asparagus into bite-size pieces, and tossed it and the bagna cauda with fettuccine. We finish that dish with some chopped parsley and a generous grating of Parmesan. And, for a wonderful appetizer, you can swap out the asparagus for slices of baguette — bread dipped in bagna cauda is classic Italian fare, and addictive.

Our tip: Bagna cauda pairs beautifully with fruity wine like a Pio Cesare Barbera D'Alba, which has all the blackberries, plums, and cherries it needs to stand up to the big flavors of the bagna cauda — and yet just enough dry acidity to keep it from running amok.

Servings: 4

Ingredients
2 Tbsp skin-on almonds
2 oil-packed anchovy fillets
4 garlic cloves, smashed
1 sprig oregano
1 tsp finely grated lemon zest
1 tsp finely grated orange zest
2 Tbsp unsalted butter
3 Tbsp olive oil, divided
2 Tbsp fresh orange juice
1 Tbsp fresh lemon juice
Kosher salt, freshly ground pepper
1 ½ pounds asparagus, trimmed

Directions
Place a rack in upper third of oven and preheat to 350°.
Scatter almonds across a rimmed baking sheet and toast, tossing once, until darkened a little and fragrant, 8 to 10 minutes. Let them cool slightly, then give them a coarse chop.
Once the nuts are out of the oven, preheat the broiler.
In a small saucepan, cook the anchovies, garlic, oregano, lemon zest, orange zest, butter, and 2 tablespoons of the oil over low heat, swirling occasionally, until the garlic is golden, about 15 to 20 minutes.
Remove the pan from heat and stir in the orange and lemon juices. Season with salt and pepper, and let it sit while you prepare the asparagus.
Toss asparagus with remaining tablespoon of oil on a rimmed baking sheet to coat and season with salt and pepper. Broil until deeply browned in spots and crisp and tender, 5 to 8 minutes.
Toss the asparagus and bagna cauda together on a platter and top with almonds. Serve warm.

Recipe source: Bon Appetít