Beverage Recipes
Charred Lemonade with Mezcal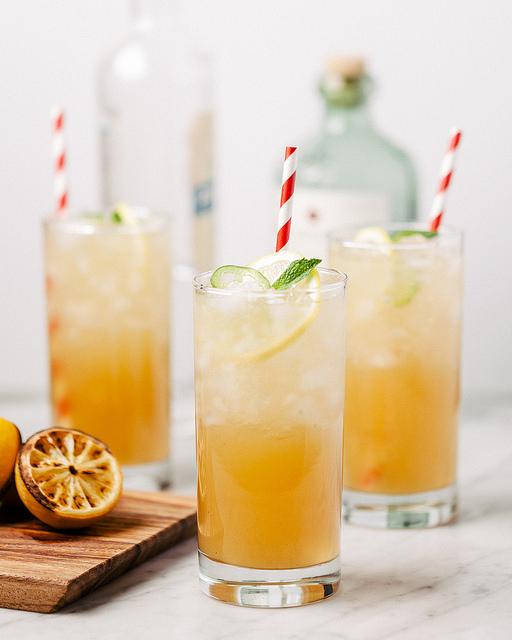 Made with charred lemons, agave nectar, vodka, and mezcal, this cocktail is sweet, puckery-tart, and full of smoke in all the right proportions. And in our first few sips we were struck by its textural qualities: the pulpy charred lemon juice combines with the clear spirits to give it a wonderful body that seems to amplify all the flavors as they sit on your palate. It's so pleasing!
Our tip: This one goes in a pitcher, so it's a great party drink. We can't help thinking that — with all its fresh and energizing citrus — it's the perfect cocktail for getting together with friends to play games or plan this year's big travel adventure.
Servings: 4
Ingredients
¾ cup charred lemon juice
¼ cup fresh squeezed lemon juice
¼ cup sugar
¼ cup agave nectar
2 cups cold water
4 oz mezcal
2 oz vodka
1 fresh jalapeño, sliced thin
Fresh mint leaves for garnish
Directions
In a 1-quart pitcher, stir together the lemon juice, sugar, agave nectar, and cold water.
Add the mezcal and vodka, and stir again.
Fill a glass with ice, top it with a slice of jalapeño (optional), and pour the lemonade over it.
Garnish with mint, and serve.