Recipes
Cheesy Baked Cauliflower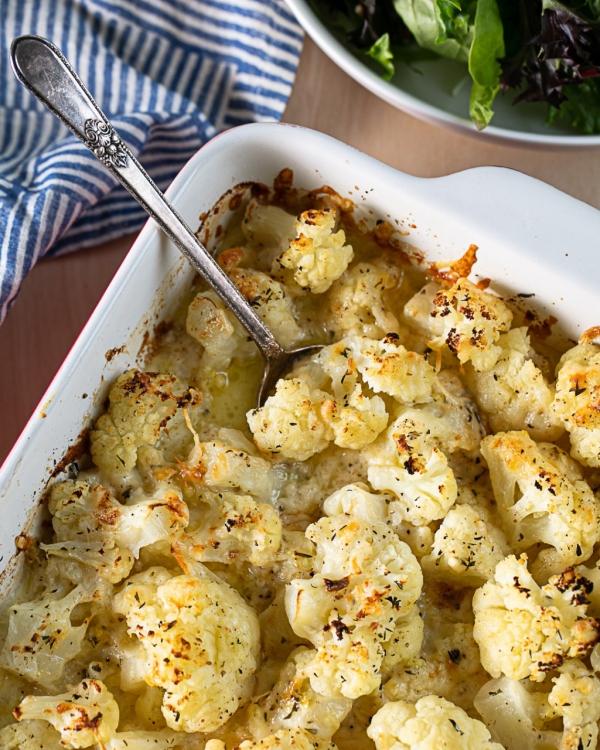 It is a universally acknowledged truth that if you want picky eaters to tuck into a head of cauliflower — or any vegetable, really — all you gotta do is bury it in a haystack of shredded cheese. Cheesy cauliflower is a classic example of that, but these days we're all a little in love with cauliflower, so this recipe is less about hiding it than gilding it: we've baked it with a handful of aromatics and a mix of flavorsome cheeses. By which we mean, it's a wee bit more flavorful the stuff Gram used to make, also known as cheddar, cheddar, cheddar cauliflower. That version definitely has its charms, but it's good to have options.
Here, the cauliflower is lightly blanched before we bake it — so it's tender yet firm. (We know, Gram, we know.) Then we cover it in a drizzle of cream and a ton of garlic, fresh thyme, and grated white cheddar and Parmesan cheese. In the oven, all those savories infuse the cauliflower with warmth and herbiness, and the cheese bakes into a crisp, golden brown top.
In the test kitchen, we do have a couple tasters who eschew the cauliflower, but they loved this dish. And we all agreed that the white cheese on white vegetable thing works — monochromatic is a very sleek and sophisticated look for cauliflower.
Cheesy cauliflower comes together in about 15 minutes, and it only needs a half hour to bake, so it's perfect for Thanksgiving — throw it in the oven while the turkey or tofurkey is resting. We like it enough that we'll be eating it all through the winter months. It'll pair nicely with any protein, and we'd even put it in the center of the plate with a fried egg on it and a salad sidekick.
Servings: 6
Ingredients
1 ½ large cauliflower heads, cut into florets, divided
6 Tbsp unsalted butter, diced, divided, plus more for greasing pan
½ cup heavy cream, divided
3 garlic cloves, minced, divided
2 cups grated white cheddar cheese, divided
1 cup freshly grated Parmesan cheese, divided
1 Tbsp fresh thyme leaves, rough-chopped, divided
Kosher salt, to taste
Freshly ground black pepper, to taste
Directions
Preheat the oven to 400º. In a large pot of salted boiling water, blanch the cauliflower until tender, about 8 minutes. Transfer to an ice bath to cool. Drain well.

Butter a 9x13" baking dish. Add half of the cauliflower and pour ¼ cup of the heavy cream over the top. Dot with 3 tablespoons of the butter, sprinkle with half of the garlic, 1 cup of cheddar, ½ cup of Parmesan, and ½ tablespoon of thyme. Season with salt and pepper.

Repeat a second layer with the remaining ingredients.

Bake until the cheese is melted and deeply golden, about 30 minutes.

Let cool for 5 minutes, then serve.
Recipe source: Delish