Appetizer Recipes
Cheesy Baked Eggplant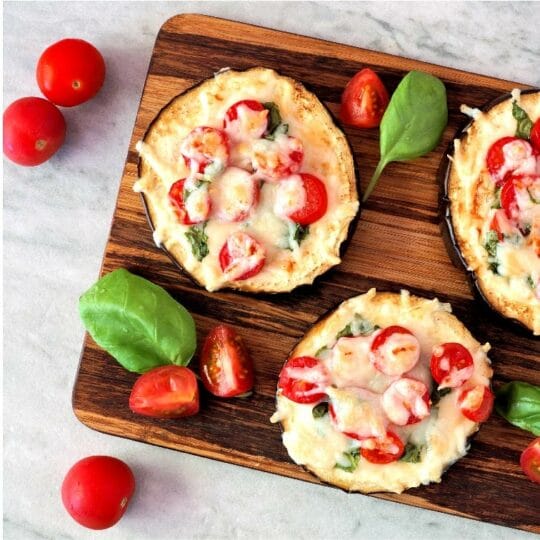 Appetizer
Cheesy Baked Eggplant
Serves: 4
Ingredients
6 ounces Friendship Farmers cheese
1/4 cup grated imported Reggiano Parmesan cheese
1/4 cup Organic Valley organic part skim shredded Mozzarella cheese
2 small organic garlic cloves
1 tablespoon Napa Valley organic extra virgin olive oil
2 1 pound eggplants ends removed sliced into 1/3 inch thick slices
1 5 ounce package Earthbound Farms organic baby arugula
1 dry pint Del Cabo organic Heirloom cherry tomatoes halved
Directions
Preheat oven to 375 degrees Fahrenheit.
Mash together three cheeses in a bowl and set aside. Crush garlic into a ramekin or small bowl and mix in the olive oil. Lightly grease a large baking pan with garlic oil. Place half of the eggplant slices on the pan and brush tops lightly with garlic oil. Spread two tablespoons of cheese mixture on each slice, cover with remaining eggplant slice and brush with remaining oil. Bake on middle rack for 30 to 35 minutes, until eggplant is tender and cheese is melted.
Divide arugula among each of four plates and place two eggplant stacks on top. Scatter tomatoes around the plate and serve immediately.