Breakfast Recipes
Chia Oat Overnight Pudding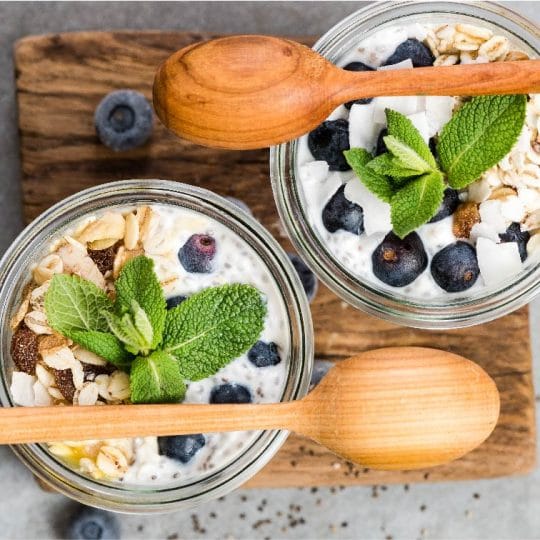 Breakfast
Chia Oat Overnight Pudding
Serves: 1
Ingredients
1/2 cup Bob's Red Mill organic rolled oats
2 tablespoons Bob's Red Mill organic chia seeds
2 tablespoons diced organic banana
1/4 cup Woodstock organic frozen wild blueberries defrosted in the microwave
1 cup Westsoy organic unsweetened soy milk
1/2 teaspoon vanilla extract
1 tablespoon Flanigan Farms slivered almonds
1 tablespoon fresh blueberries
Directions
Stir together oats, chia seeds, and banana in a wide mouth Mason jar or large, clear glass cup.
In a measuring cup with a pouring spout combine the defrosted blueberries with their juices, soy milk, vanilla, cinnamon, and salt. Pour over oat mixture and stir briefly. Cover with a lid or plastic wrap and refrigerate overnight or for at least four hours.
Uncover and sprinkle top with almonds and fresh blueberries before eating.