Recipes
Chicago-Style Giardiniera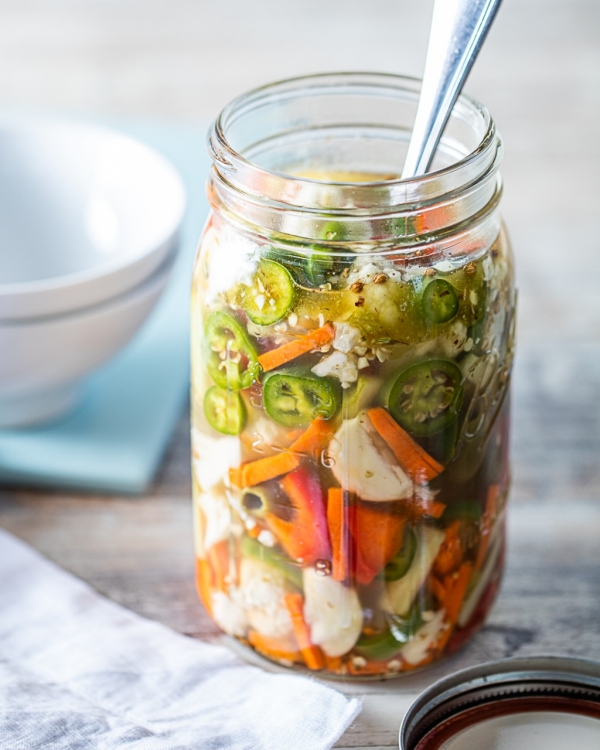 If you like a snappy pickle, you definitely need a great big jar of giardiniera for your fridge. Our version is slightly salty, brightly pungent, and full of peppery heat, spices, and crunch. It'll make any meal or dish livelier — and like all quick pickles, it's easy to make.
Chicago-style giardiniera is made in two steps. First, you soak the vegetables in a salt water bath overnight, and then you marinate them in what is essentially a vinaigrette made with a bunch of aromatics — in this case, mustard, fennel, celery salt, bay leaf, coriander, and oregano. The best thing about it, aside from all that zesty flavor, is that you can throw in whatever veggies you like best, so take what we've done here as a suggestion. We always like a fair amount of chile peppers in ours (mild jalapeños and serranos for kick), and of course, cauliflower's particular crunch, but after that it's a shuffle of carrots, bell peppers, pearl onions, zucchini, eggplant, green beans, and what have you.
We also love that, in addition to the crisp, pickled veggies, you end up with a spicy vinaigrette that adds zing everywhere it goes. It's particularly delicious drizzled on sandwiches, like the classic Italian beef: Think soft rolls piled high with very thin slices of beef, giardiniera, and melty cheese. The vinaigrette seeps into the bread, and gives the au jus some herby depth when you dip the sandwich.
You can layer giardiniera onto just about any sandwich, burger, taco, pasta, or veggie bowl. We'll sometimes mince it up like a relish for our hot dogs and brats. In fact, minced giardiniera is wonderful swirled through mayo for a spicy spread or something thicker, like sour cream, for a dip.
Don't forget that you can also eat giardiniera by itself, like an antipasto. We'll put a little bowl of the stuff on the table with dinner, and it's the bright light on our charcuterie boards and hummus platters.
Yield: 1 quart
Ingredients
¾ cup cauliflower florets, cut into bite-size pieces
1 stalk celery, julienned into 1" pieces
½ carrot, julienned into 1" pieces
½ cup julienned red bell pepper, 1" pieces
3 jalapeño peppers, thinly sliced
2 serrano peppers, thinly sliced
¼ cup plus 1 tsp kosher salt, divided
¾ cup water, plus more for soaking
2 garlic cloves, crushed
¼ cup green olives
1 bay leaf
½ tsp dried oregano
¼ tsp coriander seeds
¼ tsp mustard seeds
¼ tsp fennel seeds
¼ tsp peppercorns
¼ tsp celery salt
¼ cup extra-virgin olive oil
¾ cup white wine vinegar
Directions
In a medium bowl, combine the cauliflower, celery, carrots, red bell peppers, jalapeños, serranos, and ¼ cup salt. Fill the bowl with enough water to cover the vegetables. Stir to combine, cover with plastic wrap, and refrigerate overnight, or for at least 8 hours.

Rinse and drain the vegetables and place them in a sterile 1-quart jar. Add the garlic, olives, bay leaf, oregano, coriander, mustard, fennel, peppercorns, celery salt, olive oil, white wine vinegar, ¾ cup water, and remaining 1 tsp salt. Cover with a lid, and turn the jar upside down to thoroughly combine.

Store the jar at room temperature in a cool, dry place for 24 hours.

"Burp," or open, the jar to release some of the built up air, and refrigerate the giardiniera for at least 3 days before enjoying it — the veggies will get tastier the longer it sits.

The giardiniera can be stored in the refrigerator for up to 6 weeks.