Recipes
Chicken & Apples Skillet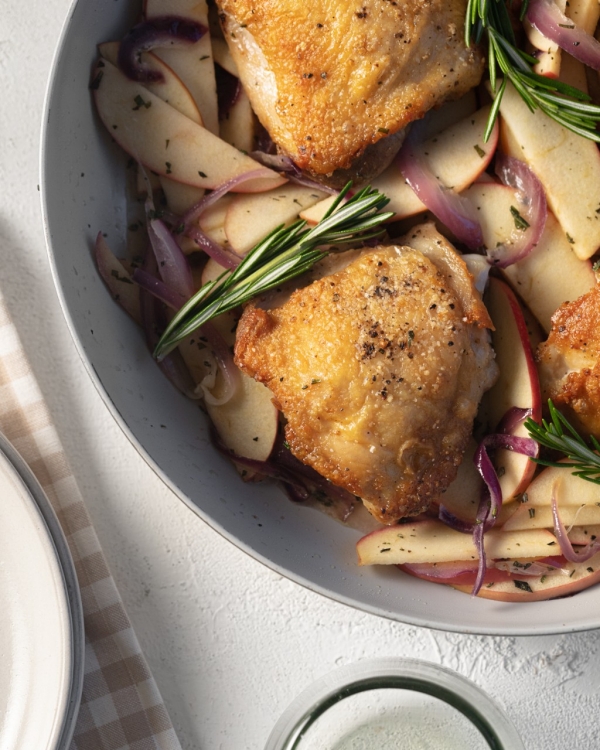 The name of the game here is all-around perfect chicken. We start the chicken thighs in a hot, cast-iron skillet on the stove, so all the fat renders out of the skin — and it turns golden-brown and crispy. While the chicken finishes in the oven, we use its fat to cook a bunch of sweet-tart apples in rosemary, sage, and Dijon mustard. We love how the juicy, tender, unbelievably crispy chicken tastes with those herby, sweet-tart apples.
This is a bright, comforting skillet, but it doesn't weigh you down. It also comes together in about 30 minutes, so it's perfect for a light, midweek meal. While the chicken is in the oven, you can throw together a great big, leafy, green salad and slice up a baguette — as always, we are loath to leave any of that scrumptious sauce in the pan.
Servings: 4
Ingredients
½ cup unsalted chicken stock (such as Swanson)
1 tsp Dijon mustard
1 ½ tsp olive oil
4 skin-on, bone-in chicken thighs
Kosher salt, to taste
Freshly ground black pepper, to taste
1 small red onion, thinly sliced vertically
1 Tbsp fresh sage, chopped
1 ½ tsp fresh rosemary, chopped
2 medium apples, thinly sliced
Directions
Preheat the oven to 450º.

In a small bowl, combine the chicken stock and Dijon mustard, stirring with a whisk.

Heat a large, cast-iron skillet over medium-high heat. Add the olive oil to the pan and swirl to coat. Sprinkle the chicken with salt and pepper, add it to the pan with the skin side down, and cook for 12 minutes or until the skin is golden-brown and crispy.

Flip the chicken thighs and cook for an additional 2 minutes. Transfer the skillet to the oven and roast the chicken thighs until the internal temperature reaches 165º, about 15 to 20 minutes. Remove the chicken thighs from the oven and let them rest for 5 minutes on a plate.

Reserve about one tablespoon of the chicken fat, and then wipe out the skillet. Heat the the skillet over medium heat, add the reserved chicken fat, and swirl.

Add the red onion, sage, rosemary, salt, and pepper to the skillet and cook for 4 minutes, stirring occasionally.

Add the apples and stir to coat. Stir in the stock mixture. Return the chicken to the skillet and cook until the liquid is reduced by half, about 3 minutes.

Serve the chicken directly from the skillet with a hunk of your favorite bread.
Recipe adapted from: MyRecipes