Lunch Recipes
Chicken & Broccolini Fried Rice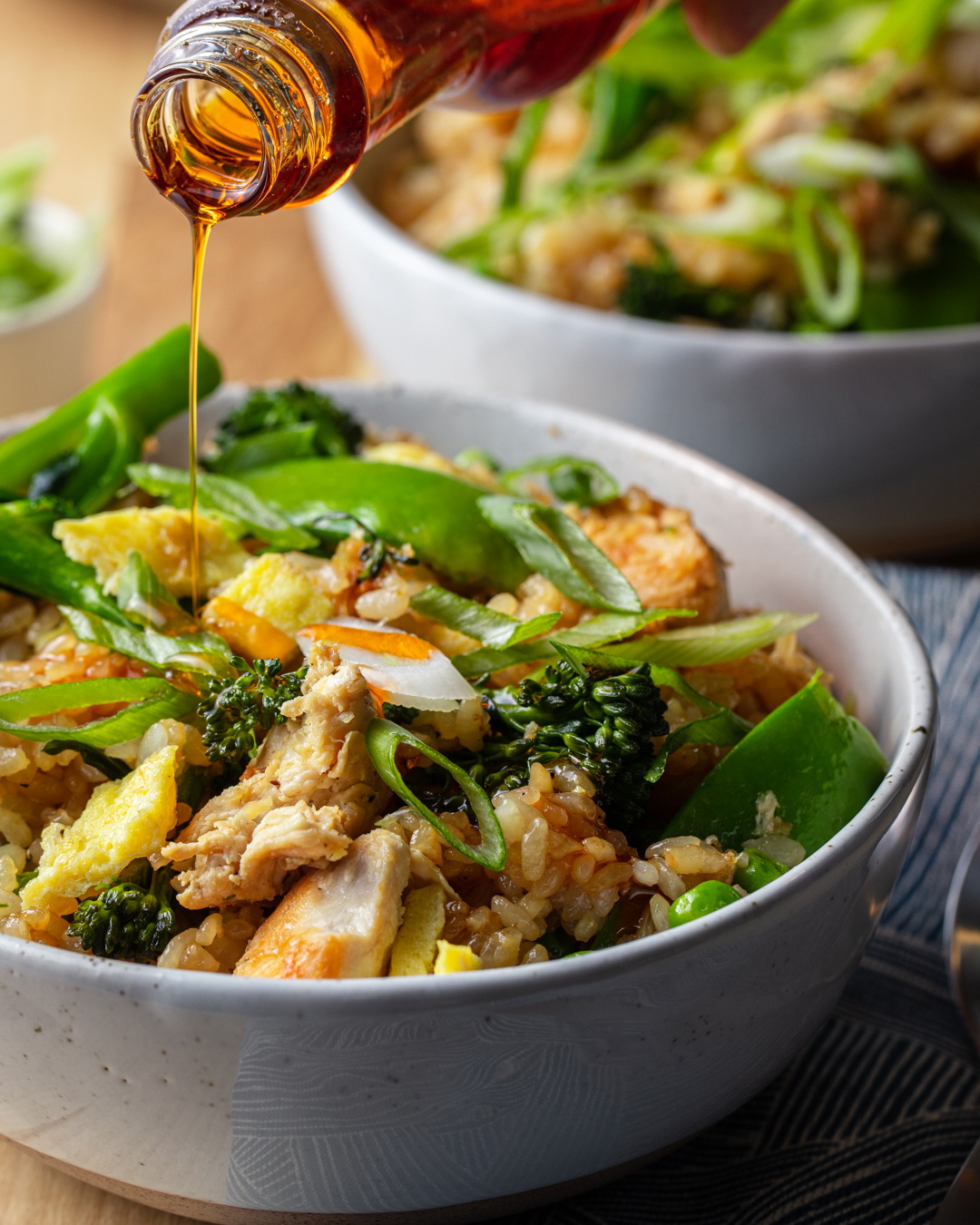 The smell of this fried rice cooking — imagine chicken, fresh veggies, ginger and garlic hitting a sizzling hot wok — wafted through the halls of Gelson's and brought our colleagues into the test kitchen. One of them even abandoned a meeting, saying, "Sorry, I have to go talk to the kitchen about a bowl of fried rice."
It lived up to its promise: The eggs were fluffy, the rice crispy, the chicken succulent, the veggies bright and al dente. We especially enjoyed the broccolini; its thin stems absorbed the fragrant oil and cooked up very tender. The secret to all this perfection of course is cooking and adding each ingredient in its order, so that it spends just as much time on the heat as it needs, and no more. It may seem persnickety, but it is worth it!
This dish also got bonus points for being so uniformly prepped that it fit neatly on our forks, which is no small thing if you're dining al fresco or al desko. (Or anywhere really. Who wants to fling rice around?) Speaking of desk lunches, we like to make up a big batch of this in the early part of the week, and then portion out the leftovers for weekdays.
Our tip: We recommend using day old rice to make fried rice. Fresh rice is moist and sticky. If you use it in fried rice, it will stick to itself, yielding a clumpy fried rice. Give your rice 24 hours in the fridge, and it'll dry out a bit. That will help the grains maintain their individuality when you toss them in the wok with the other ingredients — so your fried rice will be light and fluffy.
Servings: 4
Ingredients
2 large eggs, beaten to blend
¼ cup vegetable oil, divided
1 lb chicken cutlets, cut into ½-inch slices
1 ¾ tsp kosher salt, divided
3/4 tsp freshly ground black pepper
1 bunch broccolini (about 6 ounces), ends trimmed, sliced in half lengthwise if stalks are thick
2 garlic cloves, finely grated or pressed
1 tsp ginger, finely grated
4 cups cooked long-grain white rice (preferably day-old)
1 cup snow peas
½ cup frozen edamame or green peas
3 Tbsp low-sodium soy sauce or tamari
2 Tbsp fresh orange juice (from about 1/2 orange)
4 green onions, sliced on the bias, divided
Chili or sesame oil, optional
Directions
In a small bowl, whisk together the eggs.

In a nonstick skillet, heat 1 tsp oil over medium heat. Pour the eggs into the pan, season with salt and pepper, and cook in a thin layer for 3 minutes.

Flip the egg and cook for 1 minute more. Transfer to a cutting board and chop.

In a large nonstick or cast-iron skillet or wok, heat 1 tablespoon of oil over high. Add the chicken, 1 teaspoon salt, and pepper and cook, stirring, about 10 minutes.

Add the broccolini and toss until incorporated. Stir in the garlic and ginger. Continue cooking until the chicken is cooked through and the broccolini is tender, 5 minutes more. Transfer to a large bowl.

In the same skillet, heat the remaining oil over high heat. Add the rice and remaining ¼ teaspoon salt, toss to coat, then press rice into a single layer, and cook, undisturbed, until crisped on the bottom, about 2 minutes.

Fold in snow peas, edamame, soy sauce, and orange juice. Cook, tossing, until warmed through, about 1 minute. Add chicken mixture and toss to combine.

Add half the green onions and eggs and toss until evenly distributed. Divide among plates, then top with the remaining green onions. Drizzle with chili or sesame oil, if using.

Adapted from: Epicurious