Dinner Recipes
Chicken-Fried Tofu Sandwich (Vegetarian)
If you're into tofu karaage and love a juicy, slaw-filled sandwich, this recipe is for you! It's a giant slab of golden brown, crispy chicken-fried tofu on a pillowy soft bun — with a veritable hay bale of very creamy, rather spicy slaw.
How do we work that textural fandango? We have a few really solid tricks from the test kitchen.
First, we freeze the tofu in a marinade of veggie broth and soy sauce, then thaw and press all the fluids out of it and freeze and press it again — this is what gives the fried tofu its meaty bite. Second, we double-bread the tofu in cornflakes, buttermilk, and a plethora of aromatic spices, warm and savory. It fries up super flavorful with a beautiful, craggy crust, like fried chicken. And we love the contrast of that deep crunch with the moist, tender tofu beneath it.
The slaw is also wizard, in a two-for-one kind of way. We whip up a bright, creamy mayo-based sauce that's made with Dijon, Sriracha, vinegar, celery salt, and sugar. We spread half of it on the buns, and stir the other half through the slaw, a classic combo of cabbage, onion, and jalapeño. All these flavors are wonderful together: layers of crisp texture and heat, plus the sublime salt, fat, acid, sugar balance.
Stack all that goodness on a ridiculously soft bun with some pickles, and it's a little bit of plant-based heaven. (Or a lot! Hello, new favorite sandwich!) Pull out this recipe for chicken-fried tofu sandwiches when you're throwing a birthday bash for your BFF — think patio, think checkered tablecloth, think Edward Sharpe and the Magnetic Zeros on the stereo and beer in the ice bucket.
Our tip: Vegans, we've got you! In the breading, replace the buttermilk with a combo of 1 cup plant-based milk and 1 tablespoon apple cider vinegar. Use your favorite spicy vegan mayo for the slaw and sandwiches.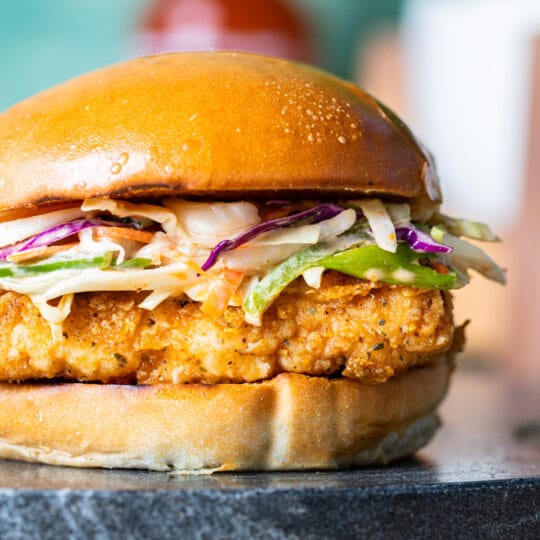 Dinner
Chicken-Fried Tofu Sandwich (Vegetarian)
Serves: 4
Ingredients
1 Tbsp low-sodium soy sauce
2 tsp Gelson's Italian seasoning
1 tsp Gelson's smoked paprika
1 tsp Gelson's garlic powder
½ tsp Gelson ground ginger
1 tsp freshly ground Gelson's black pepper
⅓ cup bread and butter pickles
4 cups thinly sliced green cabbage
1 ½ cups thinly sliced purple cabbage
½ small red onion, thinly sliced
1 small carrot, peeled and julienned
2 jalapeños, seeded and julienned
4 green onions, thinly sliced on the bias
2 tsp apple cider vinegar
¼ tsp freshly ground Gelson's black pepper
⅛ tsp Gelson's cayenne pepper
Directions
To marinate the tofu: In a medium airtight container, combine the vegetable broth and soy sauce. Add the tofu and seal the container.

Place the container in the freezer for 4 hours, or until the tofu is frozen.

Transfer the tofu to the refrigerator and let thaw for 12 hours.

Flip the tofu over and reseal the container. Repeat steps 2 and 3, freezing and thawing the tofu a second time.

To make the slaw: In a large bowl, combine the cabbage, red onions, carrots, jalapeños, and green onions. Stir to combine, cover with plastic wrap, and refrigerate until needed.

To make the dressing: In a medium bowl, combine the mayonnaise, Dijon, Sriracha, apple cider vinegar, sugar, black pepper, celery salt, and cayenne pepper. Stir to combine, cover with plastic wrap, and refrigerate until needed.

To fry the tofu: Remove the tofu from the marinade, pat it dry with paper towels, and gently press to remove excess moisture. Place the tofu on a cutting board, and cut it in half horizontally to create 2 thin rectangles. Cut the rectangles in half crosswise to create 4 tofu patties.

In a shallow bowl, whisk together the flour, Italian seasoning, smoked paprika, mustard powder, garlic powder, celery salt, ground ginger, black pepper, and kosher salt.

Pour the buttermilk into a second shallow bowl.

Dip 1 tofu patty into the buttermilk. Then dredge it in the seasoned flour, flip it to coat all sides, and shake off any excess flour. Place the breaded tofu on a plate, and repeat with the remaining patties.

Crumble the cornflakes into the remaining seasoned flour and stir to combine. Dip 1 tofu patty into the buttermilk again, then dredge it in the seasoned flour. Flip it to coat all sides, then shake off any excess flour. Return the tofu to the plate, and repeat with the remaining patties.

Fill a heavy-bottomed pot or Dutch oven fitted with a candy thermometer with 4" of oil and heat over medium-high until it reaches 375°. Line a plate with paper towels and set aside.

Carefully place the tofu patties in the hot oil and deep fry, turning occasionally, until golden brown, 4 to 7 minutes. Adjust the heat as needed to maintain the oil temperature.Transfer the fried tofu to the paper towel-lined plate and let cool for 2 minutes.

Heat a pan over medium-high heat. Toast each bun, cut side down, until golden brown, 1 to 2 minutes, and transfer to a plate.

Reserve 4 tablespoons of the dressing, then drizzle the remainder over the slaw, tossing to combine.

Drizzle 1 tablespoon of dressing on the bottom half of each bun. Layer with the fried tofu, slaw, a few pickles, and the bun top. Assemble the remaining fried tofu sandwiches, and enjoy.
Recipes adapted from Sweet Simple Vegan (fried tofu), No Spoon Necessary (slaw)