Jessica's Recipes Recipes
Chicken, Kale and Penne Pasta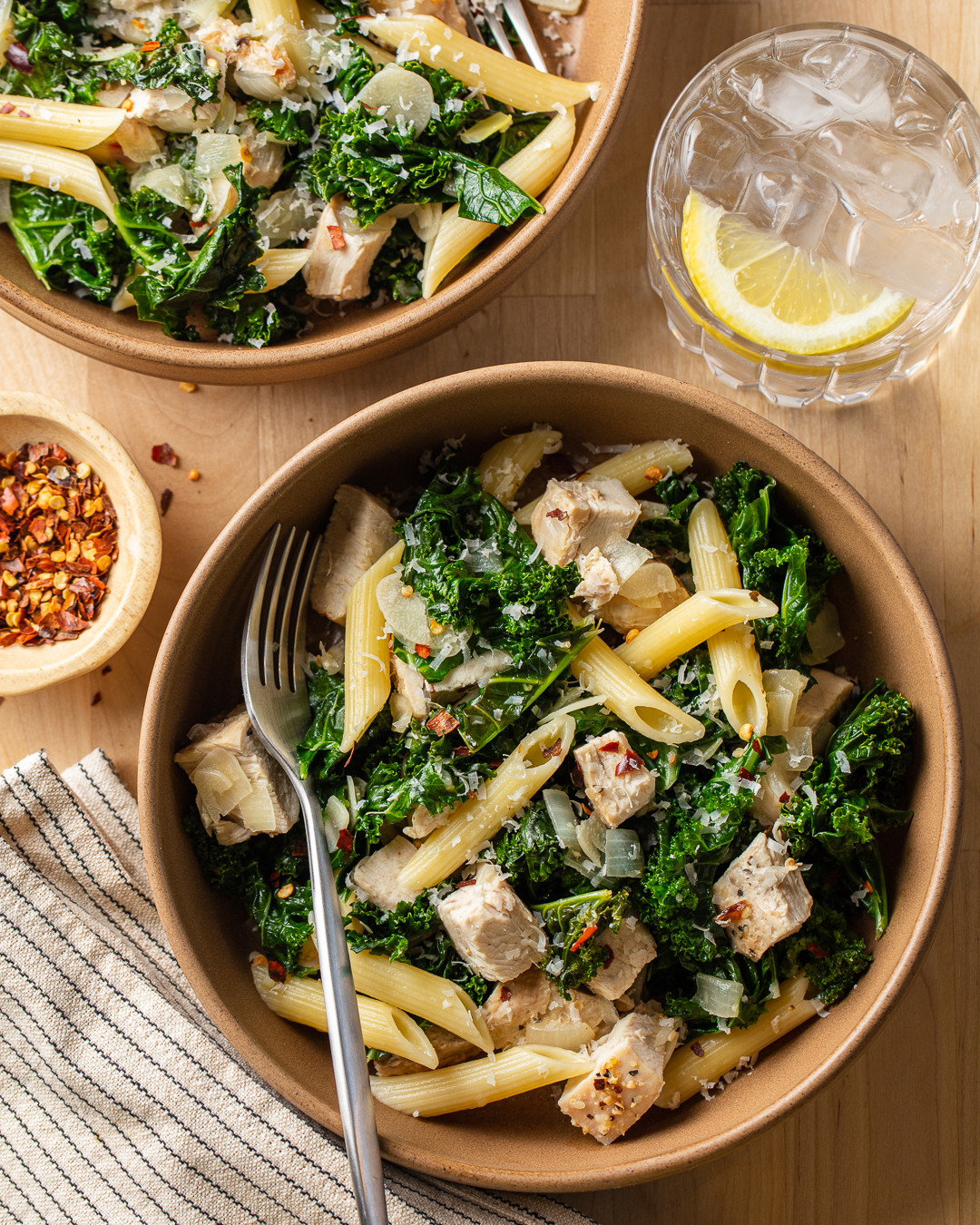 This recipe is brought to you by our in-house Registered Dietitian, Jessica Siegel. Gelson's Rewards members can schedule a complementary virtual nutrition counseling session with Jessica at nutrition@gelsons.com.

This light pasta dish is a work and school night favorite at our house, mostly for its great flavors. It's got herby chicken, kale — tender and chewy — a hint of red pepper, some good, salty Parm, and plenty of lemon. It's a one-pot wonder, and in the midst of a nutty week, we can all appreciate a dish that lets us scoot in and out of the kitchen with a minimum amount of prep and dishes.

It's also a dish that we feel great about eating! It's a fresh and beautifully balanced meal with just the right amount of protein, grains, and veggies.

Our tip: You'll see that we've used Gelson's prepared lemon-herb chicken breasts in this recipe. They're a great cheat because their flavors are so complementary to the recipe — and they shave about 40 minutes off your prep, not to mention a roasting pan. You'll find the breasts in our rotisserie chicken grab-and-go case.


Servings: 4

Ingredients


2 Tbsp Napa Valley organic olive oil, divided
1 large organic onion, chopped
8 organic garlic cloves, thinly sliced
1 ½ lb organic kale, ribbed and torn
2 Gelson's prepared lemon-herb chicken breasts, skin removed, diced
¼ tsp kosher salt
½ tsp red pepper flakes
1 cup hot water, divided
1 ⅓ cup Barilla ProteinPLUS Penne Pasta
1 Tbsp fresh lemon juice
4 tsp grated Reggiano Parmesan cheese


Directions


Heat 1 tablespoon of the olive oil in a large soup pot over medium heat. Add the onion and cook until it is golden yellow, about 10 minutes.
Add the garlic and cook for 1 more minute.
Add the remaining tablespoon of olive oil and stir the kale into the onion. Cook for another 3 minutes, or until the kale begins to wilt.
Stir in the chicken, salt, red pepper flakes, and a ½ cup of the hot water. Turn the heat down to medium-low, cook for another 5 minutes, and then add the remaining hot water and cook until the kale is tender, about 5 minutes.
Meanwhile, cook the penne according to the package directions, omitting salt. Reserve a ½ cup of the cooking water before you drain it.
Add the pasta, reserved cooking water, and lemon juice to the kale and chicken and toss.
Transfer to a large bowl and serve with Parmesan cheese on the side.



Each 2 ½-cup serving contains:

Calories 460
Fat 13 g
Saturated Fat 3 g
Trans Fat 0 g
Cholesterol 90 mg
Sodium 290 g
Total Carbohydrate 45 g
Dietary Fiber 6 g
Sugars 3 g
Protein 43 g
Vitamin A 524% DV
Vitamin C 354% DV
Calcium 30% DV
Iron 26% DV