Dinner Recipes
Chicken Katsu
This chicken katsu recipe is all about the crispy fried texture. We dredge the chicken through flour, ensuring the egg and panko coating clings to the chicken. In the hot oil, it fries up deep golden brown, ultra crispy-crunchy — and so juicy.
The secret? Good oil management. If the temperature of your oil dips or flares, your chicken will either be oily or burned. In the test kitchen, we mount a candy thermometer in our fry pan so we can adjust the heat as needed and keep the oil at a constant 350º.
Rather than a traditional tonkatsu sauce, we zig-zagged our chicken katsu with Bachan's Original Japanese BBQ Sauce because, well, we're super into it right now. Bachan's is a small, family-owned California business. They make their sauce in tiny batches with real stuff, like ginger, garlic, green onions, Japanese soy sauce, and toasted sesame oil. It's molasses-y, salty, zippy, and bright. Here, we amplify all those tasting notes with a dollop of Dijon mustard — hello, punchy goodness!
Chicken katsu and a bowl of fluffy white rice garnished with green onions is a splendid one-bowl dinner or lunch. That said, we've also been known to fry up a bunch of katsu for happy hour. Give everyone a tiny bowl of rice (cute!), some dipping sauces, and a beer, and you're all set.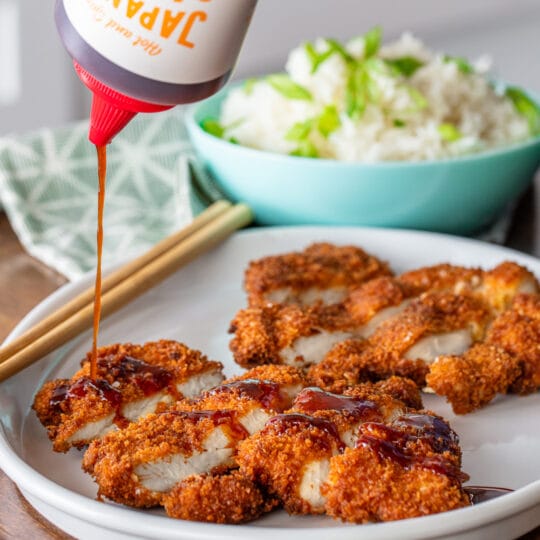 Dinner
Chicken Katsu
Serves: 4
Ingredients
8 skinless, boneless chicken thighs
1 cup Gelson's organic all-purpose flour
3 cups panko bread crumbs
4 cups cooked jasmine rice, for serving
Bachan's Hot and Spicy Japanese BBQ Sauce, for serving
Dijon mustard, for serving
Sliced green onions, for garnish
Special equipment: candy thermometer
Directions
Preheat oven to 200º. Line one baking sheet with wax paper and set up another with a cooling rack.

Trim any excess fat off the chicken thighs. Lay a large ziplock bag over the chicken thighs and, using a meat tenderizer, lightly pound them to ½" thick and season with kosher salt.

Put the flour in a pie plate or shallow bowl. In a separate pie plate, lightly beat the eggs with 3 tablespoons of water. In a food processor, pulse the panko 7 to 10 times until it resembles a coarse meal and then transfer it to a shallow bowl. Lightly season the flour, eggs, and panko with salt.

Dredge 1 piece of chicken in the flour, tapping off the excess. Dip it in the egg, allowing the excess to drip off, and then drop it in the panko, pressing to help it adhere. Transfer that piece to the wax paper–lined baking sheet. Repeat with the remaining chicken.

Pour the oil into a large sauté pan or Dutch oven and heat over medium-high heat until it reaches 350º on a candy thermometer. Note: Adjust the heat as needed to maintain this oil temperature throughout the frying process.

Add 2 or 3 chicken thighs to the hot oil and fry over moderately high heat for about 3 minutes a side, turning once, or until they are golden and crispy and reach an internal temperature of 165° on an instant-read thermometer.

Transfer the fried chicken thighs to the baking sheet fitted with a cooling rack and place it in the oven while you fry the remaining thighs.

Once all of the thighs are cooked, slice and serve hot on top of rice topped with the barbecue sauce, Dijon mustard, and sliced green onions.
Recipe source: Food & Wine