Dinner Recipes
Chicken Parmigiana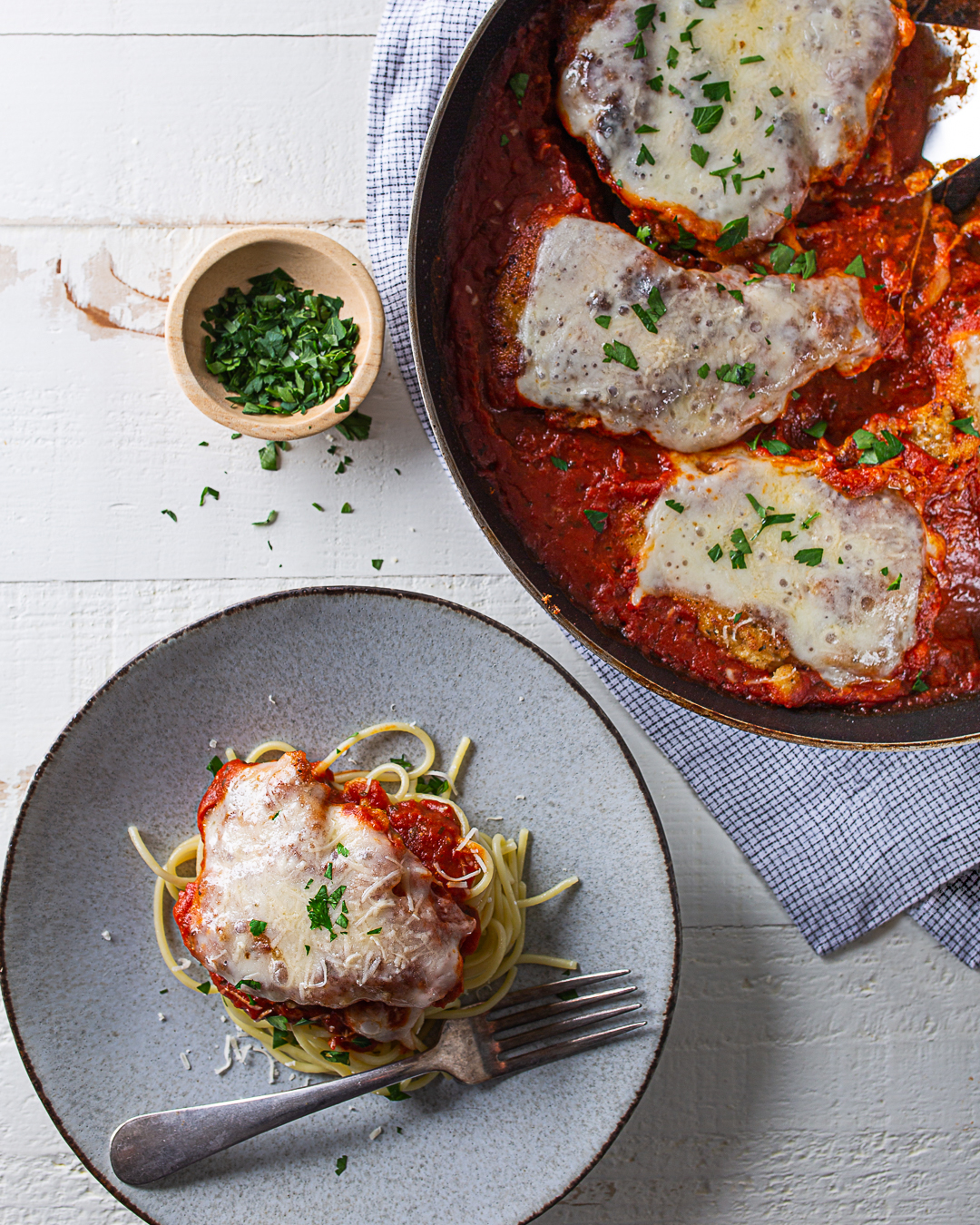 There are some people who never need to read the menu at their favorite Italian restaurant because they always know what to order — chicken parmigiana. Fun fact: This classic dish was actually created in the United States, not Italy. Immigrants took the prep method of eggplant parmigiana and adapted it for chicken, though the technique is essentially the same. Add breading to thin slices, fry, and serve with tomato sauce, melted mozzarella, and Parmesan. It's a crunchy, saucy, and cheesy delight, all cooked up in one skillet.
The recipe comes together easily, especially if you set out all of your ingredients in advance, so you can move from egg-dip to breadcrumbs to the frying pan as quickly as possible. Use your own homemade spaghetti sauce or feel free to sub in your favorite jarred version.
While this hearty dish doesn't require much else to make a meal, you can serve it with a tossed green salad and a loaf of crusty, rustic bread. We like to make chicken Parm for Sunday supper. It's the perfect family dinner to wrap up the weekend.

Our tip: if a chicken Parm sandwich is your idea of the ultimate comfort food, go ahead and double the recipe — leftovers assured.
Servings: 4
Ingredients
1 lb boneless, skinless chicken breasts
Kosher salt, to taste
Black pepper, to taste
1 egg, beaten
1 cup Italian breadcrumbs
4 Tbsp unsalted butter
2 cups spaghetti sauce
4 slices mozzarella cheese (2 oz)
Cooked spaghetti, for serving (optional)
2 Tbsp chopped parsley, for garnish
2 Tbsp grated Parmesan cheese, plus more for garnish
Directions
Cut the chicken breasts horizontally and then in half.

Place the chicken breasts in a plastic bag. Using the back of a small sauté pan, pound the chicken to flatten to ¼-inch thick. Transfer the chicken to a plate and season it with salt and pepper.

Place the egg and breadcrumbs in two wide, shallow bowls. Dip the chicken in egg first; then in breadcrumbs. Set the battered chicken on a clean plate.

In a large skillet, heat the butter over medium heat until shimmering. When the butter is hot, fry the chicken for 10 minutes, turning halfway through, or until golden brown on both sides. Remove the chicken, but don't clean the skillet.

Add the spaghetti sauce to the skillet, and bring it to a simmer over medium-low heat.

Return the chicken to the skillet. Place a slice of mozzarella on top of each chicken breast, and then sprinkle with Parmesan. Cover and cook until the cheese is melted, about 3 to 5 minutes.

Serve immediately over the spaghetti. Garnish with chopped parsley and Parmesan cheese.
Recipe source: Food.com