Recipes
Chicken Piccata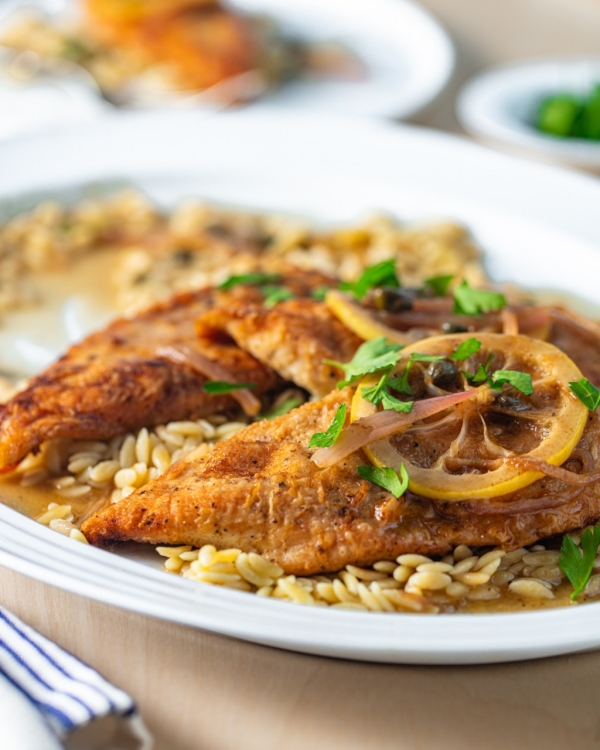 It's funny how a classic Italian-American dish like chicken piccata checks all the modern flavor boxes. It's got all the piquancy we want right now: plenty of butter for fat, lemon for acid, and pickled capers for salty brine.
Piccata is a homey cooking technique that involves flouring veal or chicken, frying it, and serving it in a simple sauce made with pan juices and lemon. We like this recipe because it doubles down on the lemon: along with the juice, we sauté a few whole slices in the butter, so you get both a bright pucker and a soft, caramelized zestiness. Add a knob of butter, the briny capers, mild shallots, and the chicken's juices, and you've got a mouth-watering bite — and a wonderfully fragrant kitchen.
We never want to lose any of that pan sauce, so we serve our piccata over a bowl of lush and buttery orzo. It's heavenly, but you could just as easily mop up all that goodness with bread — think rustic whole wheat sourdough toasted with olive oil, salt, and pepper.
Chicken piccata comes together in about a half hour, but it has a fanciness that belies that ease. You could really serve it for any sort of meal, from a midweek dinner with the kids to a celebratory supper with the S.O. and a great bottle of wine.
Our tip: Chicken piccata makes terrific leftovers. In fact, you could just prep the whole recipe for lunches. You'll be the envy of the virtual lunch meeting.
Servings: 4
Ingredients
4 Gelson's boneless, skinless chicken breasts (about 1½ lbs), halved horizontally
Kosher salt, to taste
Black pepper, to taste
All-purpose flour, for dredging
3 Tbsp extra-virgin olive oil, plus more as needed
6 Tbsp unsalted butter, divided
1 shallot, peeled and sliced lengthwise
½ lemon, thinly sliced, seeds removed
¾ cup chicken stock
4 tsp drained capers
2 Tbsp lemon juice
1 lb orzo, cooked according to package directions
Fresh parsley, coarsely chopped, for garnish
Directions
Season both sides of each chicken breast with salt and pepper. Dredge the chicken in the flour and shake off any excess.

In a large skillet, over medium-high heat, heat the olive oil and 3 tablespoons of the butter until the butter has melted.

Working in batches to avoid crowding the pan, add the chicken and sauté until golden brown and cooked through, about 4 minutes per side.

Transfer the chicken to a plate and repeat with the remaining pieces, adding more olive oil if needed.

Once the chicken is cooked, add the shallot and lemon slices to the pan and sauté, stirring occasionally, until lightly caramelized and fragrant, 2 to 3 minutes.

Add the stock and simmer until reduced by half, about 3 minutes.

Reduce the heat to low, and then stir in the remaining 3 tablespoons of butter, capers, and lemon juice. Season with salt and pepper.

Top the orzo with the chicken and sauce and garnish with parsley.
Recipe source: New York Times Cooking