Dinner Recipes
Chicken Skewers With Bachan's Original Japanese BBQ Sauce
In the test kitchen, we are wild for a great condiment, and Bachan's Original Japanese BBQ Sauce has us all gushing. Bachan's is a small, family-owned and -run business. They make their sauce in tiny batches (right here in California!) with all the real stuff you'd use at home, like ginger, garlic, green onions, sugar, Japanese soy sauce, toasted sesame oil, and mirin. Dip a finger in and you can taste all the savory-sweet notes: it's molasses-y, salty, zippy, and bright. Warning: you will want to put it on everything!
For these chicken skewers, we ratchet up the flavors of the Bachan's sauce by whisking it up with a little more mirin, garlic, and ginger, plus a healthy pinch of crushed red pepper flakes. The chicken strips marinate in the sauce for a few hours and then we throw them on the barbecue.
Heat is magic! The chicken comes off the grill with a beautiful char, which adds all kinds of smoky depth to the tangy-sweet sauce. We sprinkle ours with sesame seeds and slivers of fresh green onion and serve it over a bed of sushi rice. We love how the soft, slightly creamy rice tastes in a bite with the tender, smoky chicken and all that good sauce. Those crunchy sesame seeds are swoonworthy!
Servings: 3 to 4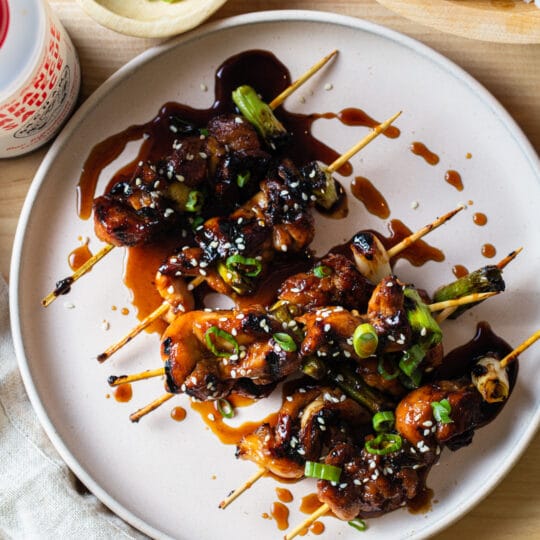 Dinner
Chicken Skewers With Bachan's Original Japanese BBQ Sauce
Ingredients
½ cup Bachan's Original Japanese Barbecue Sauce, plus more for drizzling
½ tsp Gelson's organic crushed red pepper flakes
1 lb chicken thighs, excess fat trimmed, cut into 1x2" strips
Grapeseed oil, for brushing
Cooked sushi rice, for serving
Special equipment: 10 6" bamboo skewers
Directions
In a medium bowl, whisk together the barbecue sauce, mirin, toasted sesame oil, garlic, ginger, and crushed red pepper flakes.

Add the chicken strips and toss to coat. Cover tightly with plastic wrap and marinate in the refrigerator for 2 to 4 hours.

While the chicken marinates, fill a small dish with water and soak the bamboo skewers.

Heat a grill or grill pan to high heat.

Trim the green onions. Cut the white and light green parts into 1" pieces. Thinly slice the dark green parts and set them aside for garnish.

Skewer the chicken and green onion, alternating between the 2, until the skewers are ¾ full. Leave an inch of the skewer open at each end. Continue until all of the chicken has been skewered.

Lightly brush the grill grates with oil. Place the skewers on the grill, a few inches apart. Cook, turning occasionally, until the internal temperature of the chicken reaches 165° on an instant-read thermometer.

Serve the skewers over a bowl of sushi rice (check it out, we made it in the Instant Pot). Garnish with the sliced green onions, sesame seeds, and more barbeque sauce.