Lunch Recipes
Chicken Soft Tacos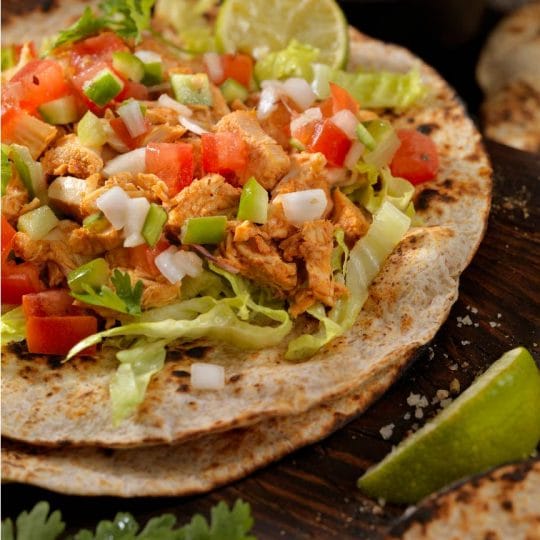 Lunch
Chicken Soft Tacos
Serves: 3
Ingredients
2 Gelsons Finest no salt added roasted pre cooked chicken breasts skin removed meat cut into 1 cubes about 2 cups
3/4 cup Health Valley fat free chicken broth
2 teaspoons Napa Valley organic olive oil
1/2 large onion thinly sliced into half moons
1 red bell pepper seeded and thinly sliced into 2 long strips
9 six inch Judiths Gourmet corn tortillas
Directions
Place the chicken chunks in a small bowl or cup. Pour chicken broth over the chicken and let it soak while you prepare the rest of the ingredients.
Heat oil over medium high heat in a large frying pan. Add onion and bell pepper and saut until onion becomes clear. Add the garlic and cook until fragrant, about 30 seconds. Carefully add chicken and broth. Cook, stirring, until most of the broth evaporates, about 3 or 4 minutes. Cover and simmer while you heat the tortillas.
Heat a separate skillet to warm the tortillas one at a time, turning once after 15 seconds. You can also heat them all at once wrapped in wax paper in the microwave. Keep them in a covered dish until you are ready to use them.
Transfer chicken and vegetables to a serving bowl. Serve with a teaspoon each of salsa, Peasy Guacamole, and sour cream.