Dinner Recipes
Chicken Tequila Fettuccine
Throw on a pair of overalls and a neon windbreaker and head to the kitchen: this totally fly recipe for Chicken Tequila Fettuccine comes from the California Pizza Kitchen Cookbook, which came out in 1995 and is still chock full of super delicious meals.
The dish is full of flavor, simple to throw together, and a fun twist on a family favorite — it tastes like a fajita but in a bowl! And most importantly, the fresh, electric green limes and colorful bell peppers will majorly match your windbreaker.
The pasta's molten core of flavor is the paste-like cilantro sauce it's coated in — we sauté cilantro, garlic, and jalapeño until soft, then add lime juice, tequila and chicken stock and cook it down until it's green and pungent. We give the recipe a shot of tequila and plenty of freshly squeezed lime juice, so the pasta is super bright. We also marinate the chicken in soy sauce, and we love all the umami and salty undertones it gives the dish. Finally, we sauté the onion and peppers in butter, then simmer everything in heavy cream.
With its big flavor and easy prep, this dish is something of a one-bowl wonder. We think it would be perfect at the end of a long work week or served for family movie night.

Serves: 4 to 6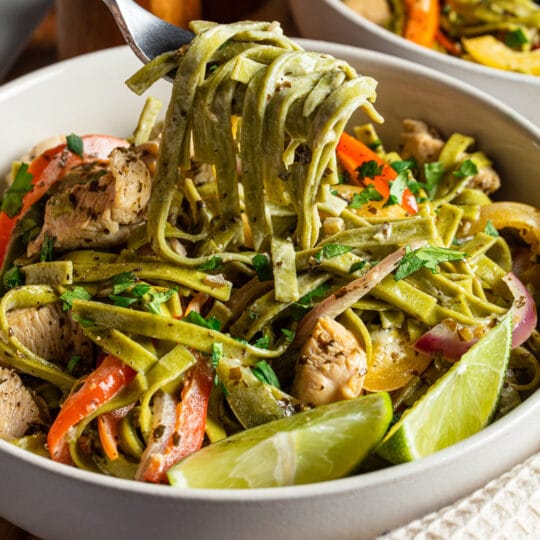 Dinner
Chicken Tequila Fettuccine
Ingredients
1 lb dried spinach fettuccine
1 tsp Gelson's 100% California extra virgin olive oil
3 Tbsp unsalted butter, divided
½ cup chopped Gelson's fresh cilantro, plus more for garnish
3 Tbsp minced, seeded jalapeño
3 Tbsp freshly squeezed lime juice
1 ¼ lbs chicken breast, diced into ¾" pieces
½ small red onion, thinly sliced
½ medium red bell pepper, thinly sliced
½ medium yellow bell pepper, thinly sliced
½ medium green bell pepper, thinly sliced
Directions
Bring a large pot of water to a boil and season generously with salt. Cook the fettuccine to al dente, according to package instructions. Strain, toss with the olive oil, and set aside.

Meanwhile, in a small skillet melt 2 tablespoons of the butter over medium heat. Add the cilantro, garlic, and jalapeño and cook for 4 to 5 minutes until softened. Add the stock, tequila, and lime juice and bring to a simmer. Cook until reduced to a pesto-like consistency, 5 to 7 minutes. Set aside.

In a medium bowl, stir together the chicken and soy sauce. Let marinate at room temperature for 5 minutes.

In a large skillet, melt the remaining 1 tablespoon butter over medium heat. Add the onion and peppers and sauté until softened, 6 to 8 minutes.

Add the chicken, soy sauce, cilantro paste, and heavy cream. Bring to a simmer and cook until the chicken is cooked through, 3 to 5 minutes. Add the pasta to the skillet and toss to coat.

Season with salt. Generously garnish with chopped cilantro and serve hot with lime wedges. Leftover pasta can be stored in an airtight container in the refrigerator for up to 5 days.
Recipe adapted from: "The California Pizza Kitchen Cookbook"
Calculate nutrition information for this recipe.