Dinner Recipes
Chickpea, Lemon & Fennel Soup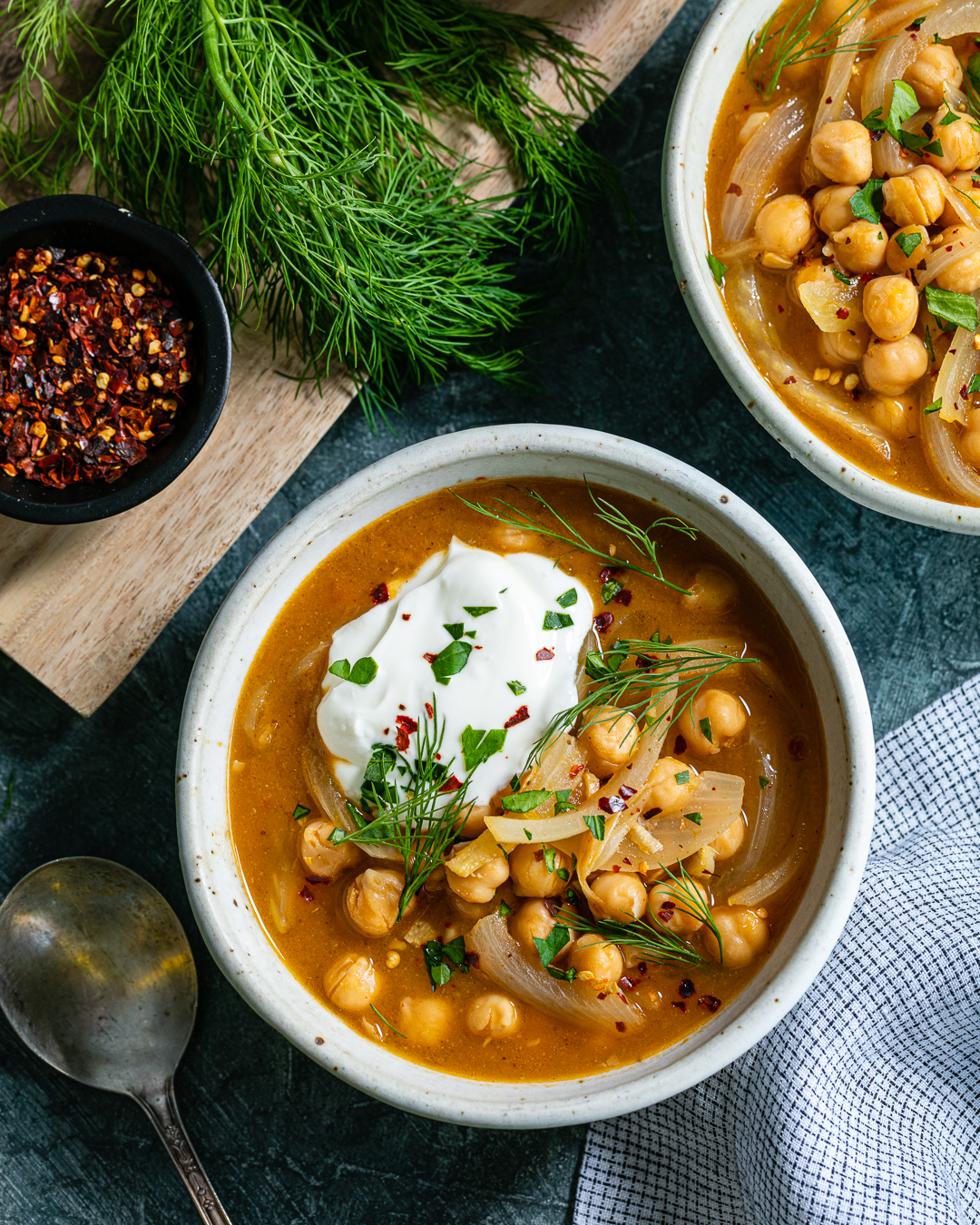 This rustic plant-based soup is a wonderful change of pace from winter's creamy puréed soups. We season the veggie broth with cumin, coriander, red pepper flakes, and sumac, giving it a rich color and layers of warmth and flavor — that sumac is so bright and lemony. It's swimming with onions and fennel, too, and we love the earthy, natural sweetness they bring to the soup.
Of course, the chickpeas absorb all that flavor, and add a satisfying bite to an otherwise light soup. A few dill fronds, a little parsley, a dollop of yogurt, and it's a deeply aromatic, comforting soup. So slyly hearty! In the test kitchen, we served it with a thick slice of well-buttered artisanal wheat bread. It was heaven dunked in that broth.
For a dinner that comes together in a half hour, this soup looks pretty special — thanks to the spritely herbs and speckles of crushed red pepper. It'll be perfect for a weeknight when you don't have a ton of time, but you do want to pause for the evening meal.
Like many a good soup, it'll only get better as it sits, so feel free to make it ahead, meal preppers. Pile on the fresh herbs just before serving.
Our tip: Canned chickpeas are great, especially if you're short on time, but cooking them from scratch is a revelation. A freshly cooked chickpea has a wonderfully tender, creamy texture. The flavor is different too, more robust and nutty — and more neutral.
Servings: 4 to 6
Ingredients
2 Tbsp extra-virgin olive oil, plus more for garnish
1 extra large fennel bulb, thinly sliced
1 yellow onion, thinly sliced
4 garlic cloves, roughly chopped
¼ tsp Gelson's crushed red pepper, plus more for garnish
5 cups vegetable stock
2 15-oz cans chickpeas, strained and rinsed
1 ½ tsp kosher salt
2 tsp Gelson's ground cumin
2 tsp ground coriander
1 tsp Gelson's sumac, plus more for garnish
2 Tbsp freshly squeezed lemon juice
Full fat plain yogurt, for garnish
Gelson's organic fresh dill fronds, for garnish
Chopped parsley leaves, for garnish
Artisan bread, for serving
Directions
In a large Dutch oven or heavy-bottomed pot, heat the olive oil over medium-high. Add the fennel slices and cook for 5 minutes, stirring occasionally. Add the onions, and continue cooking until tender, about 5 minutes more.

Add the garlic and crushed red pepper, lower the heat to medium, and cook for 2 to 3 minutes, or until fragrant.

Add the vegetable stock, chickpeas, salt, cumin, coriander, and sumac. Bring to a boil, reduce to a simmer, cover, and cook for 15 minutes.

Stir in the lemon juice.

Ladle the soup into serving bowls and garnish with yogurt, olive oil, crushed red pepper, sumac, dill fronds, and parsley leaves. Serve with a slice of artisan bread and enjoy.
Recipe adapted from: Feasting at Home
Calculate nutrition information for this recipe.