Recipes
Chilaquiles in Salsa Verde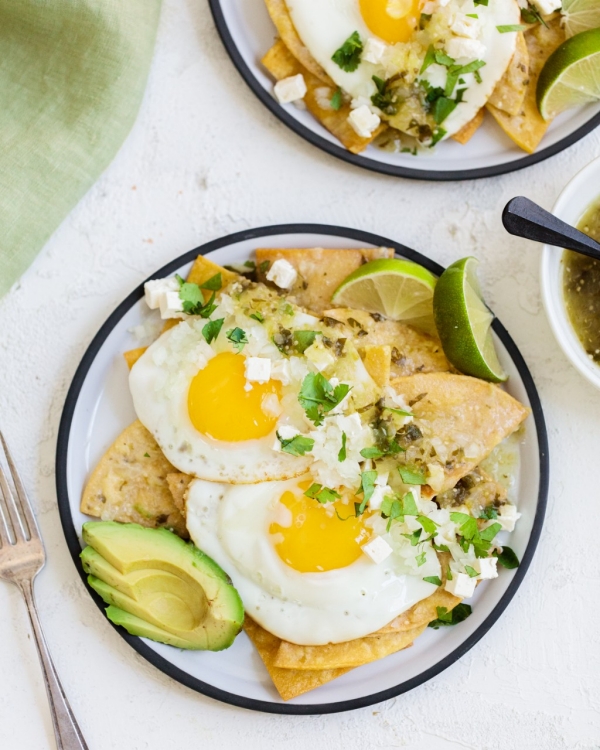 Chee-luh-kee-lays is a fun word to say and an even more fun dish to make and eat. For this recipe, we make a bright, spicy salsa verde with tomatillos and serrano chiles. There's a little crème fraîche swirled through it, which makes it very creamy and tempers some of the spice. We toss it with triangles of freshly fried corn tortilla right before we pile on the eggs and garnishes — so the chips have time to absorb some of the sauce, but not all of it, and you get both soft and crispy bits.
That egg is kind of key: we like a sunny-side up egg so that the runny yolk can spill out over the chilaquiles. Crunchy tortillas, creamy salsa verde, runny egg yolk, avocado, cilantro, and feta — add a little hot sauce and lime, and it's the perfect bite. In fact, it's such a fantastic combination, that our taste testers found themselves stuffing heaping forkfuls of chilaquiles into their mouths, trying to make sure they got all the things in every bite.
Making chilaquiles is a terrific way to get rid of leftover tortillas. In the test kitchen, folks were so into the fried tortillas, they were pilfering them off the counter every time we turned our backs, so our advice would be to make a double batch.
Chilaquiles are definitely a beloved brunch staple, but we'd eat them at any meal. (Hello, breakfast for dinner!) You can put out the garnishes and let family members build their own chilaquiles. You might even add a few extra garnishes for fun, like radishes, black beans, and hot sauces.
Servings: 4 to 6
Ingredients You'll Need:
For the salsa verde:
10 small tomatillos, husked and halved
2 to 4 serrano chiles, stemmed, seeded, and veins removed
1 small white onion, half left intact and half minced, divided
1 large clove garlic
½ cup cilantro leaves, finely chopped
Sea salt, to taste
For the chilaquiles:
1 ½ cups safflower oil, plus more for cooking the eggs
1 qt salsa verde
12 corn tortillas, each cut into 6 to 8 wedges
8 to 12 eggs
¼ cup crème fraîche
1 to 2 avocados, halved and cut into 8 slices each
½ cup white onion, finely minced
½ cup cilantro leaves, chopped
½ cup feta cheese, cubed
How to Make Chilaquiles in Salsa Verde:
To make the salsa verde: In a medium saucepan, combine the tomatillos, serrano chiles, intact white onion half, and garlic clove. Cover the veggies with water and bring the ingredients to a boil over medium-high heat. Decrease the heat to maintain a simmer and cook until the tomatillos become more translucent and the chiles have gone from bright green to a faded khaki color, about 12 to 14 minutes.

Pour the contents of the saucepan, including the liquid, into a blender and purée.

Return the purée to the saucepan and simmer gently over low heat for about 35 minutes, until the desired thickness is reached.

Add the minced white onion and cilantro to the cooked salsa and stir to combine. Season the salsa with sea salt, and set the saucepan aside to cool.

To make the chilaquiles: Line a sheet pan with paper towels.

In a large saucepan over medium-high heat, warm 1 ½ cups of the safflower oil, which should be 2 inches deep to submerge the tortilla wedges.

Working in about three batches, drop the tortilla wedges into the saucepan and use a slotted spoon or tongs to turn them over as they fry for 2 to 3 minutes, until golden brown.

Transfer the chips to the prepared sheet pan to cool and continue frying the rest of the tortillas. The chips should be very crispy after they cool.

Warm a little oil in a frying pan over medium-high heat until it is sizzling. Once the oil is hot, gently crack 2 eggs into the pan and cook them sunny-side up.

Using a spatula, transfer the eggs to a plate and repeat with the remaining eggs.

Add the crème fraîche to the saucepan with the warm salsa verde, and stir until it's well integrated.

Drop all of the chips into the salsa saucepan. Gently stir them once or twice to coat with the sauce, trying to break as few as possible.

Spread a cup of the saucy chips onto each plate. Top each with 2 sunny-side up eggs and garnish with avocado slices and a sprinkle of the onion, cilantro, and feta before serving.
Recipe adapted from: My Mexico City Kitchen