Appetizer Recipes
Chile Butter Sweet Potatoes
This sweet potato recipe contains multitudes! Which is to say that what makes it special is not the sweet potatoes, but what's on top of them. We roast black beans with garlic, cumin, and coriander — so they get spicy and super crispy. Yes, crispy beans: They crunch like potato chips. They're so wonderful, you'll be tempted to pour a beer and eat them for a snack.
Instead, we pile them on roasted sweet potatoes with a wonderful chile butter (think Cholula and honey). Then we scatter a handful of chiles and cilantro across all of it and drizzle on some lime juice. It's a beautiful mess of crunchy-soft, spicy-sweet, and brightly rich — the kind of side dish you can eat all night.
Would we bring this to Friendsgiving? Yes, because in addition to tasting amazing alongside all manner of meats, it's also show-stoppingly pretty. Your friends will gasp with delight, and you will go home with an empty bowl and many demands to forward the recipe.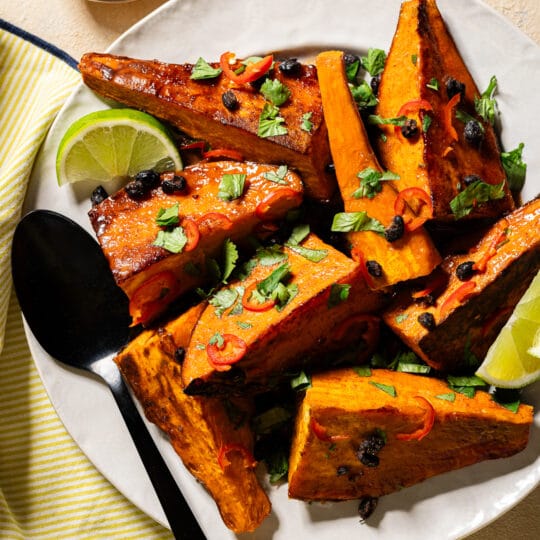 Appetizer
Chile Butter Sweet Potatoes
Serves: 8
Ingredients
3 lb sweet potatoes, quartered lengthwise
6 Tbsp Gelson's 100% California extra virgin olive oil, divided
2 cans black beans, drained and patted dry
5 Tbsp unsalted butter, room temperature
2 ½ Tbsp Tapatio or Cholula hot sauce
Thinly sliced red chiles, for garnish
Rough chopped cilantro, for garnish
Directions
Place two oven racks in the lower third and upper third of the oven. Place one rimmed sheet pan on the lower oven rack and preheat the oven to 425º.

On a second rimmed sheet pan, toss the black beans and garlic with 2 tablespoons of the olive oil and the cumin and coriander. Season with salt and spread evenly. Roast until crispy, stirring halfway through, 25 to 30 minutes.

In a large bowl, toss the sweet potatoes with ¼ cup of the olive oil to coat. Season with salt. Place the sweet potatoes cut sides down on the preheated sheet pan, and roast for 20 to 25 minutes, until fork tender and caramelized.

To make the chile butter: In a large bowl, mash together the butter and honey until smooth. Add the hot sauce, 1 tablespoonful at a time, blending well after each addition. Season with salt.

When the sweet potatoes are roasted, brush them with the chili butter.

To serve, arrange the sweet potatoes on a large platter and drizzle with the excess honey butter. Garnish with the crispy black beans, chiles, and cilantro. Serve hot with lime wedges.

Leftover potatoes can be stored in an airtight container in the refrigerator for up to 5 days.

Recipe source: Ingredient