Dinner Recipes
Chipotle Lime Salmon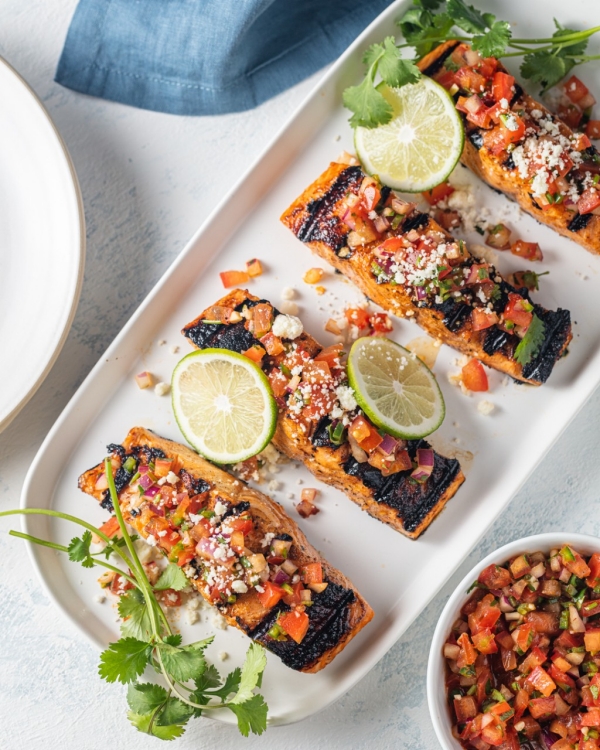 We've always loved salsa and fish together. Salsa is light enough that it doesn't overwhelm fish — and yet it can add tons of color, texture, flavor, and juice to a dish. Here, we marinate salmon in garlic, spices, honey, adobo sauce, and lime, and then grill it 'til it's lightly charred — so it's already loaded with smoke, heat, and citrus. And then we pile on a chipotle salsa that's full of fresh tomatoes, pungent onions, adobo chiles, and bright, puckery lime. What a juicy, crunchy bite it makes with the spicy-sweet salmon!

If you've had the pandemical doldrums, this dish is the antidote — it's bursting with citrus and sunshine. It's the perfect light meal for those weeknights when you don't have the energy (or a clean mask) to go out, but you still want something a little bit special. Serve the salmon atop some greens or brown rice if you like. And that salsa definitely deserves a pile of well-salted and crunchy tortilla chips.
Servings: 4
Ingredients
For the salmon and marinade:
4 6-oz salmon fillets, skin removed
½ tsp kosher salt
¼ tsp black pepper
1 Tbsp ground cumin
1 tsp smoked paprika
⅛ tsp cayenne pepper
1 Tbsp honey
1 Tbsp adobo sauce (from a can of adobo chiles)
1 garlic clove, minced
1 Tbsp minced shallot
3 Tbsp lime juice
¼ cup olive oil
2 oz queso fresco, crumbled
Lime slices and wedges, for garnish
For the chipotle salsa:
3 medium tomatoes, seeded and small diced
1 small red onion, small diced
1 small jalapeño, seeded and small diced
¼ cup chopped cilantro (with stems)
1 Tbsp minced chipotle pepper
2 Tbsp adobo sauce
2 Tbsp lime juice
1 Tbsp olive oil
¼ tsp flake salt
Directions
For the salmon and marinade: Place the salmon fillets into a 1-gallon, food-safe, resealable plastic bag or glass bowl. Sprinkle with salt and pepper.

In a medium bowl, mix together the cumin, paprika, cayenne pepper, honey, adobo sauce, garlic, shallot, and lime juice. Add the olive oil in a slow stream, whisking continuously.

Pour the marinade over the salmon and gently mix to coat all of the salmon. Place the bag or bowl (covered in plastic wrap) in the refrigerator for 1 hour.

For the chipotle salsa: While the salmon marinates, prepare the salsa. In a medium glass bowl, combine the tomatoes, red onion, jalapeño, cilantro, chipotle pepper, adobo sauce, lime juice, olive oil, and salt. Keep chilled until serving.

Remove the salmon from the marinade and allow the excess marinade to drip off. Discard the excess marinade.

To cook the salmon: Bring a grill pan or grill to medium-high heat. Place the salmon on the grill, and cook for 5 minutes until nice grill marks form. Gently flip the salmon and grill for another 5 minutes or until the internal temperature reaches 150° on an instant-read thermometer.

Top the grilled salmon with chipotle salsa, queso fresco, lime slices, and a squeeze of lime.
Similar Recipes:
Pan-Seared Salmon with Dijon Caper Sauce