Dessert Recipes
Chocolate Espresso Souffle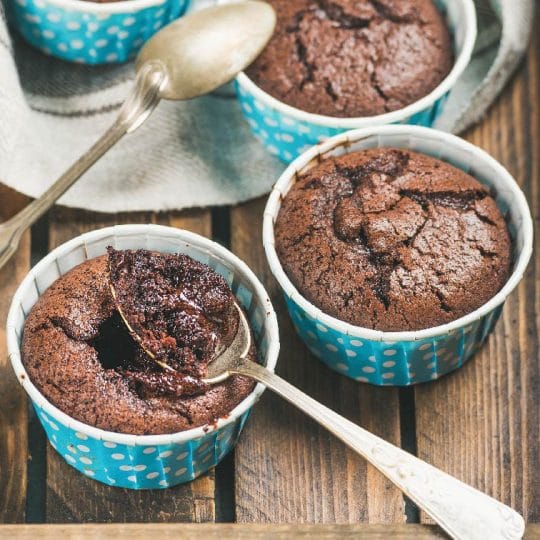 Dessert
Chocolate Espresso Souffle
Serves: 4
Ingredients
3 1/2 Tbsp strong freshly brewed expresso
5 Oz bittersweet chocolate
granulated sugar for ramekins
1 Tbsp powdered sugar plus more for garnish
3/4 Cup heavy cream for whipping optional
4 ramekins 5 fluid oz each
Directions
Preheat the oven to 400 F. Brew the expresso, make it strong. Melt the chocolate in the top of a double boiler or in a large stainless steel mixing bowl or any heat proof mixing bowl over simmering water until temperature is that of a warm bath, but nowhere near boiling.
While the chocolate is melting, thoroughly butter the insides of the ramekins all the way to the top. Thoroughly coat with granulated sugar by pouring it out slowly while turning the ramekin in your hand. The unbroken butter sugar coating is essential to the even, columnar rising of your souffle, so do not touch the inside surface.
In a clean,dry mixing bowl, copper or otherwise, whip the egg white until frothy. Add the powdered sugar and beat until they hold a soft peak, but not until hard. A softer consistency folds in easier and rises better, so do not over beat.
As soon as youve finished the whites, whisk the egg yolks into the melted chocolate. While continuing to stir, add the hot espresso. Immediately fold the whites into the chocolate gently but thoroughly, a good dozen and a half strokes should do it.
Fill the ramekins with the batter just to the top and bake 8 to 9 minutes.
NOTE: A copper bowl might make a marginally better meringue, but it is no means required. Egg whites beaten in a clean copper bowl is mostly an affection, just another of the needlessly daunting myths about souffles. Souffles simply take a little practice and sure you can peek at them, just do not slam the door.
PRESENTATION NOTES:
Sprinkle with powdered sugar and serve immediately, with a little side of whipped cream if you prefer.