Recipes
Chorizo Omelet Breakfast Sandwich with Pepper Jam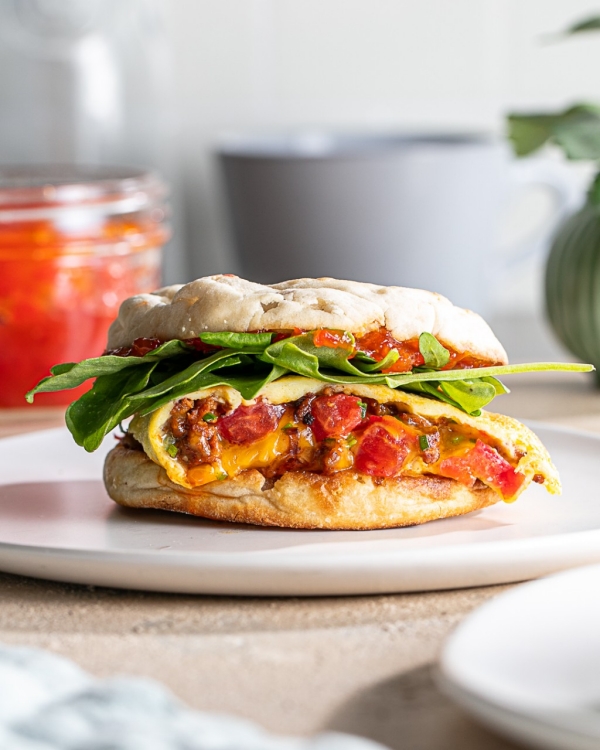 Mash-ups are one of the most fun things to come out of modern culture. There are mash-up pop songs, mash-up fiction (think: Jane Austen meets zombie horror), mash-up words, and now, mash-up breakfast. We combined two of our favorite brunch items, the omelet and the breakfast sandwich — because one great thing plus another great thing makes a doubly great thing, right?
Since this recipe is a mash-up, we knew it would need the best of both omelets and breakfast sandwiches: meat, cheese, and fresh veggies. So, we went with smoky chorizo, tender yellow onion, juicy diced tomatoes, sharp cheddar, and herby chives, and then piled it all on a toasted English muffin with a bit of peppery arugula. It's loaded with flavor and texture — and we love how the savory juices from the chorizo soak into all the nooks and crannies. But if we're being honest, this breakfast sandwich wouldn't be nearly as satisfying if it weren't for the kicky, homemade pepper jam slathered on the English muffin.
We make this firecracker red jelly using sweet red bell peppers and spicy red jalapeños, plus a splash of red wine vinegar for a little acidity. Take a whiff of it, and you'll get a noseful of roasted red pepper. Flavor-wise, however, this jam is much more complex: it starts out smooth and sweet, but then you get crunchy bits of chile pepper and a warm, pleasant heat in the back of the throat. On the breakfast sandwich, it acts like hot sauce — but better. A hearty smear makes each bite extra juicy and adds just enough spicy-sweetness to brighten and balance the savoriness of the chorizo omelet.
If we were having a slow, lazy morning, we'd make this hearty, mash-up of a sandwich for a spicy jumpstart to the day. And if that morning happened to be a Saturday or a Sunday, we might also add a smoky bloody mary and a beer back to the breakfast table. As for the leftover pepper jam, we'll be smearing it on toast, incorporating it into charcuterie boards, and putting dollops of it on our rice bowls, thank you very much!
Chorizo Omelet Breakfast Sandwich
Servings: 2
Ingredients
4 oz ground chorizo
¼ cup chopped yellow onion
2 large Gelson's eggs, beaten
Salt, to taste
Black pepper, to taste
1 Tbsp unsalted butter
¼ cup seeded and diced tomatoes
2 Tbsp minced Gelson's organic fresh chives
¼ cup shredded Gelson's sharp cheddar cheese
2 English muffins, toasted
½ cup baby arugula
2 Tbsp pepper jam (see recipe below)
Directions
In a medium nonstick sauté pan, brown the chorizo over medium heat.

Add the onions, toss a few times, and cook until the chorizo crisps up, about 5 minutes.

Transfer the chorizo and onions to a paper towel-lined plate and wipe the pan clean.

Season the beaten eggs with salt and pepper.

Return the pan to medium heat and melt the butter, swirling it to coat the pan.

Working quickly, scramble the eggs, letting them cook about a quarter of the way, and then spreading them evenly across the bottom of the pan.

Still working quickly, sprinkle the chorizo and onion mixture over the eggs and top with tomatoes, chives, and cheese.

Using a rubber spatula, fold the omelet in half, gently flip it over, and cook it for 30 seconds more.

Remove the omelet from the pan and cut it in half.

Place half of the omelet on the bottom half of a toasted English muffin and top it with a pinch of arugula. Spread 1 tablespoon of pepper jam on the top half of the English muffin and close up the sandwich. Repeat to make the second sandwich.
---
Pepper Jam
Yield: 1 pint
Ingredients
2 red bell peppers, seeded and chopped
2 red jalapeño peppers, most of the seeds removed, chopped
¼ cup red wine vinegar
¼ tsp salt
⅛ tsp butter
1 cup sugar, 1 Tbsp reserved
1 Tbsp low- or no-sugar powdered pectin
Directions
In a food processor, combine the bell and jalapeño peppers and process until liquidy but not puréed, about 3 minutes, scraping down the sides of the bowl periodically.

Transfer the processed peppers to a medium saucepan and add the vinegar, salt, butter, and sugar (remember to reserve 1 tablespoon of the sugar). Bring to a rolling boil for 5 minutes, whisking often.

In a small bowl, whisk together the reserved tablespoon of sugar with the pectin, and slowly add the mixture to the boiling pepper mixture, whisking constantly, for 2 minutes.

Remove the saucepan from the heat, transfer the jam to a heatproof jar, and allow it to cool to room temperature.

Once cooled, place a lid on the jar and transfer it to the refrigerator to cool completely. The jam may be stored up to 4 weeks in the refrigerator.
Calculate nutrition information for this recipe.