Recipes
Christmas Dinner Ideas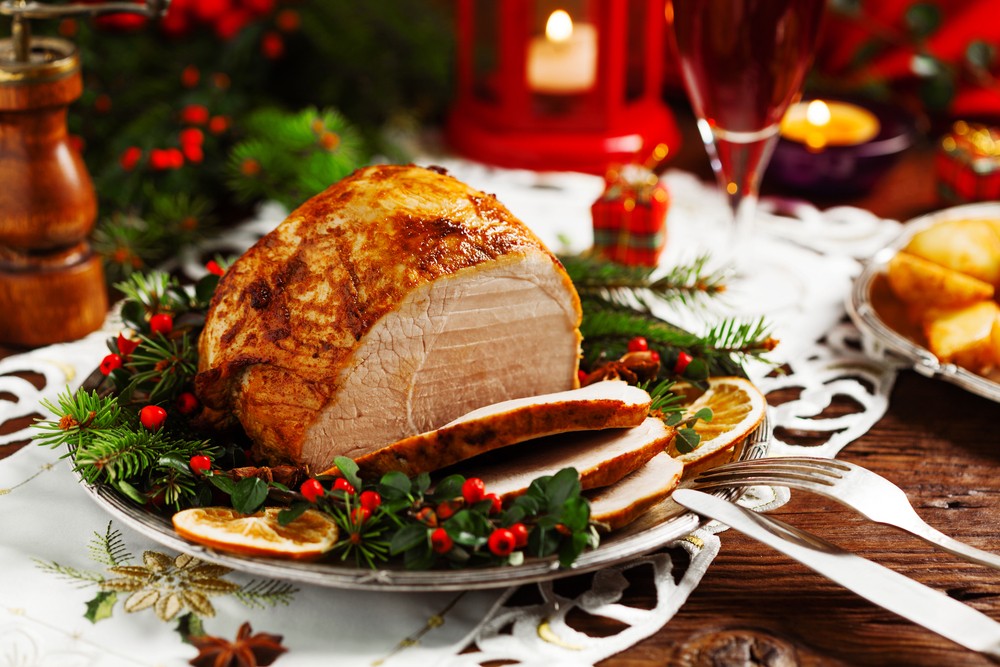 While the true joy of the holiday season can be found in the people that surround your Christmas dinner table, why not make sure that the food on it is equally wonderful?
We've collected our favorite Christmas dinner ideas, rounding up recipes for everything from appetizers to dessert. Whether you're planning a casual affair or fancy festivities, you can find plenty of inspiration for putting together a magical holiday spread.
Christmas Appetizer Recipes
Need something to eat while you're opening presents or watching a favorite holiday film? Here are our top picks for Christmas appetizers ideas.
Slow-Cooker Grape Jelly Meatballs
With the sweetness of the jelly and the smokiness of barbecue sauce, these meatballs are going to go fast. Bonus: you can make these in your slow cooker for an extra-easy appetizer. If you like to keep things casual, you can always leave the meatballs simmering in the slow cooker to keep them warm all evening.
Stuffed Portobello Mushrooms
Stuffed mushrooms are a classic appetizer, and for good reason. Cream cheese, bacon, and panko topping make these a deliciously decadent treat. Equally enjoyable as an appetizer or a side dish, these stuffed portobellos might just be a holiday repeat for years to come.
Parmesan Crusted Brussels Sprouts
We know that Brussels sprouts can be a divisive topic, but hear us out: when you cover them in panko, Parmesan, and seasonings, you can make just about anybody a Brussels lover. They're perfectly crispy and full of flavor and go wonderfully well with a dip of Caesar dressing.
Cranberry Brie Bites
These bite-sized appetizers look as good as they taste and boast festive red and green toppings in the form of cranberry and rosemary. And even though they look gourmet, you'll be surprised at how easy they are to make (hint: you can use canned crescent roll dough as a savvy shortcut!).
Christmas Entrée Recipes
The star of the dinner table and the meal's main attraction, the entrée can make or break your holiday dinner. Here are a few ideas for Christmas entrees that everybody will love.
Baked Ham with Brown Sugar Glaze
There's nothing quite like a sweet and savory baked ham, and the brown sugar glaze in this recipe puts this Christmas classic over the top. Don't let the idea of learning how to make a Christmas ham intimidate you – with this recipe, anyone can do it.
Perfect Prime Rib
Prime rib is another highly popular Christmas entrée, and it can truly be a show-stopper on your dinner table. A prime rib that's been cooked well should be juicy and flavorful and taste as if it has required hours of work. But with this recipe, you have all the tips and tricks you need to make the process simple.
Beef Tenderloin
Crusted with pepper and herbs and sliced to perfection, beef tenderloin is a wonderful option for a filling Christmas dinner entrée. Odds are, you already have most of the marinade ingredients on hand, and this recipe features a creamy horseradish sauce that will elevate the meal to a whole new level.
Air Fryer Steak
This recipe is decidedly untraditional but a complete game-changer for Christmas dinner. Instead of firing up the grill to make tender, juicy steaks, try making them in your air fryer instead. This trending kitchen tool can do just about anything, including cook steaks to perfection.
Christmas Side Dish Recipes
There's no question that side dishes are one of the best parts of a holiday meal, and these ideas for Christmas sides are sure to delight your entire family.
Rosemary Roasted Potatoes
Roasted potatoes go with just about anything, including any and all entrée options. This recipe uses a generous amount of garlic and rosemary to pack plenty of flavor into every crispy bite.
Candied Yams
Plenty of people do candied yams for Thanksgiving, but these are so delicious that you'll want them for Christmas too.
Holiday Roasted Vegetables
Vegetables don't have to be boring, especially not when they're roasted and topped with dried cranberries and toasted pecans.
Cheesy Cauliflower Bake
Looking for low-carb holiday recipes? This cheesy cauliflower bake is keto-friendly, but it's also full of plenty of cheese and butter to satisfy even the most devoted carb-lovers in your family.
Christmas Drink & Dessert Recipes
Of course, it just isn't Christmas without a few sweet treats and cocktails. Here are our favorite ideas for Christmas desserts and drinks.
Bûche de Noël (Yule Log Cake)
Want to whip up a wow-worthy holiday dessert that doesn't require chef-level experience? The Bûche de Noël (also known as the Yule Log Cake) has roots in French tradition, symbolizing the Yule Log that would burn on Christmas Eve. It looks impressive, tastes incredible, and is actually fairly simple to make.
Cinnamon Roll Apple Pie
Could there be a better combination than apple pie and cinnamon rolls? We think not. All your dessert dreams can come true with this recipe for cinnamon roll apple pie, a treat that you won't be able to get enough of.
Christmosas
Fabulously fizzy and overflowing with holiday-inspired fruits, the "Christmosa" is a refreshing cocktail to add to your holiday menu. The colors of the cranberries, grapes, apples, and pomegranate seeds make for a beverage that's as beautiful as it is delicious.
Jack Frosties
You can't help but love the icy-blue color of this holiday cocktail, and you'll adore its fruity flavor even more. Made with a mix of vodka, Prosecco, Blue Curaçao, and lemonade, it's the perfect antidote to all the hearty holiday foods you'll be eating.
Let Gelson's Create Your Dream Christmas Dinner
Some years, a homemade Christmas dinner simply isn't in the cards, but Gelson's can help you enjoy an excellent holiday meal without all the work.
Our selection of Simply Delicious Dinners offers a wide range of options for any holiday occasion, and orders can be placed as late as December 23rd. With Gelson's online ordering platform, you can curate a holiday menu that's entirely personalized to your tastes in minutes. Then, all you need to do is pick it up at your local store, reheat it when you arrive home, and enjoy.
Simplify Your Holiday Planning by Shopping at Gelson's
During the hectic holiday season, the last thing you have time for is multiple trips to several different grocery stores just to find the items you need for Christmas dinner. That's why choosing Gelson's for your holiday dinner shopping (as well as your everyday groceries) is a smart way to save yourself time, stress, and expense.
Start planning your Christmas dinner menu now by visiting the Gelson's near you.
Featured Image: gkrphoto / Shutterstock