Dessert Recipes
Citrus Upside-Down Cake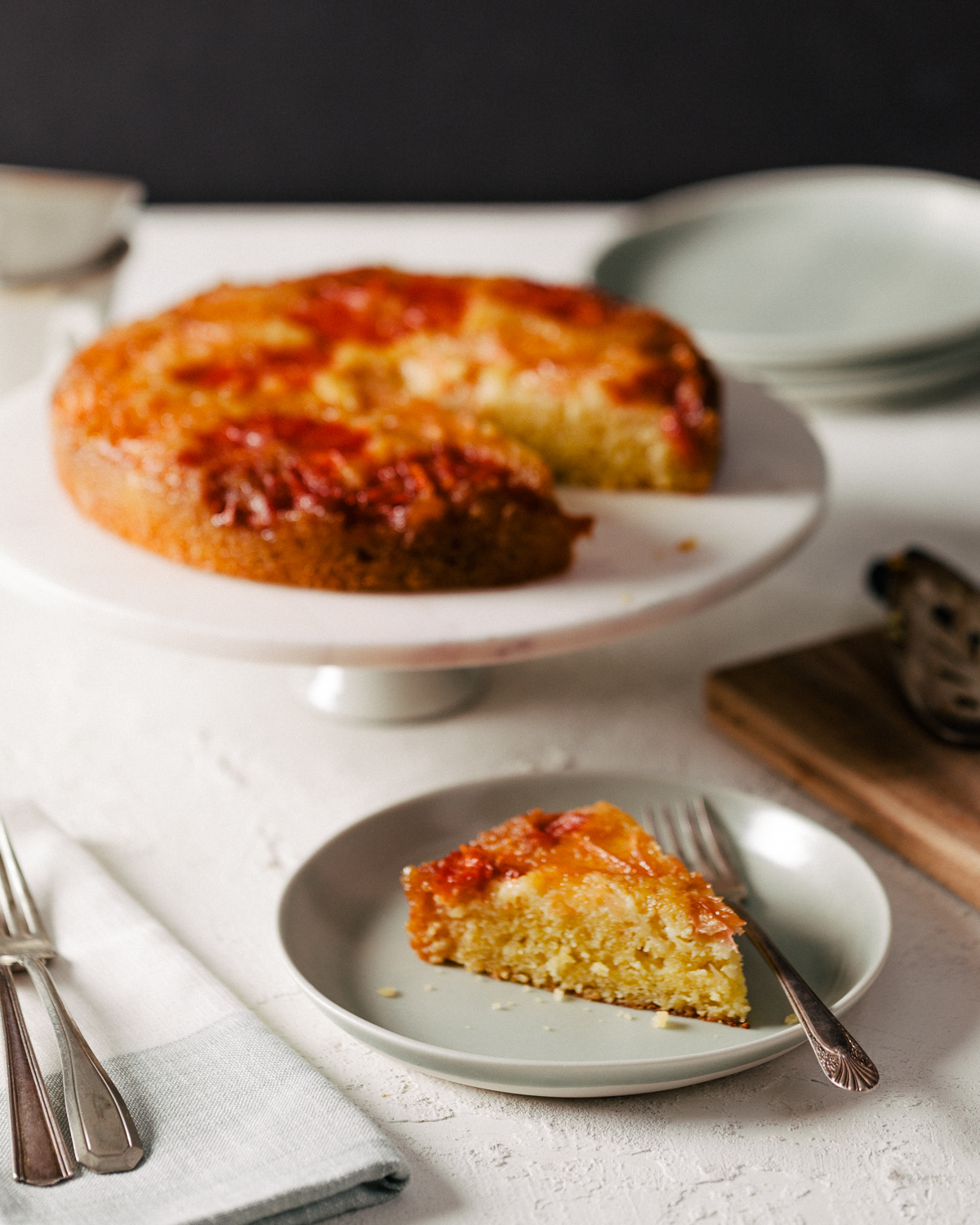 There's so much to love about this cake: It's got just enough brown sugar topping to mellow out the boldest citrus, so it's sweet and tart like marmalade, but not bitter. Then there's the exquisite texture, as moist and tender as a cake but with all the density of cornbread — plus a crisp, lightly caramelized crust around the edges. And it's such a beautiful cake, the kind you want to make for your partner's birthday or a bright, sunny afternoon tea with your favorite kiddo.
Our tip: We used two different colors of grapefruit in our cake, but feel free to use whatever citrus you have around — it's in season after all. If you want your cake to have a little pucker, go for blood oranges, grapefruit, or meyer lemon; if you want it to be sweeter, try Cara Cara oranges or mandarin oranges. And if you're not familiar with all these fabulous citrus varieties, check out our handy citrus guide!

Servings: 8

Ingredients

2 sticks plus 3 Tbsp unsalted butter, at room temperature
⅔ cup light brown sugar
2 tsp fresh lemon juice
2 small grapefruit (adjust for other citrus)
1 cup fine cornmeal
½ cup all-purpose flour
1 ½ tsp baking powder
½ tsp fine sea salt
1 cup granulated sugar
4 large eggs, at room temperature
⅓ cup sour cream
2 tsp vanilla extract

Directions

Heat oven to 350º. Grease a 9-inch round cake pan.
In a small saucepan over medium heat, melt 3 tablespoons of butter. Add the brown sugar and lemon juice, and stir until sugar melts, about 3 minutes. Scrape mixture into the prepared cake pan.
Grate ½ teaspoon zest from one of the grapefruit and set it aside.
Slice off the tops and bottoms of both grapefruit. Place the grapefruit on a clean, flat surface, and slice away the rind and pith, top to bottom, following the curve of the fruit.
Slice each grapefruit into ¼-inch-thick wheels; discard any seeds. Arrange the wheels on top of the brown sugar mixture in a single, tight layer.
In a large bowl, whisk together the grapefruit zest, cornmeal, flour, baking powder, and salt.
In a separate bowl, cream together remaining 2 sticks of butter with granulated sugar.
Beat in the eggs, one a time, then beat in sour cream and vanilla. Fold in the dry mixture by hand.
Scrape batter into the cake pan, covering the grapefruit. Transfer to the oven and bake until cake is golden brown and a toothpick inserted in the center emerges clean, 40 to 50 minutes.
Cool cake in pan for 10 minutes, then run a knife along pan's edges, invert the cake onto a platter, and cool it completely before serving.
Recipe source: New York Times Cooking .