Recipes
Classic Banana Bread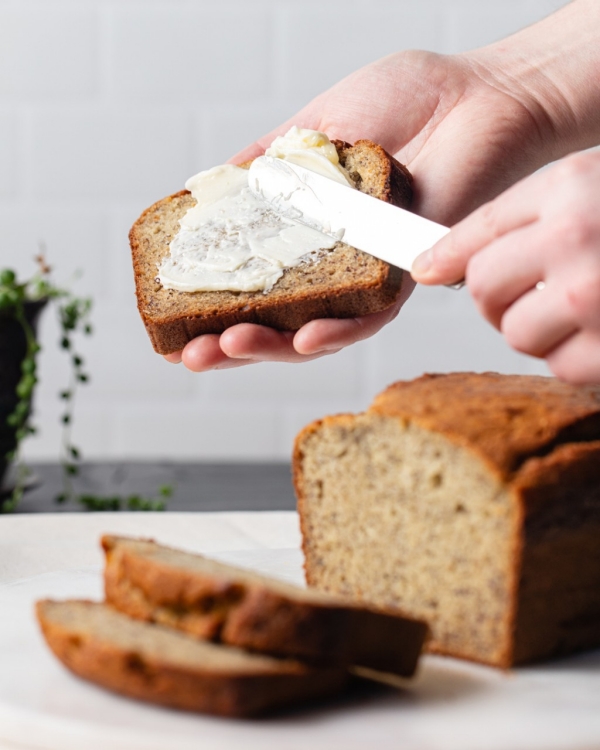 In the test kitchen, banana bread is always a favorite. Like all quick breads, it's a snap to throw together, and it's such a great way to use up overripe bananas. We like this one for all the things it doesn't have in it, namely nuts, chocolate, and heaven forfend, raisins. And, of course, for its lovely texture. The trick there is to mash the bananas very fine so that they fully integrate with the rest of the wet ingredients, and the bread bakes up with a nice crumb — light and springy, yet still very moist.
The true delight of a banana bread is that it's exactly the right level of sweetness for all times of day. We like it toasted up warm and buttery for breakfast. It's the perfect companion for an afternoon cuppa — and it won't tank your work ethic. In the evening, we might slide it back into the toaster and serve it with a scoop of vanilla or salted caramel ice cream. Hot banana bread, melty ice cream, yes, yes, yes.

Our tip: Always make two loaves of banana bread. You can slide the extra loaf in the freezer — two weeks from now, you'll be so delighted to have it.
Servings: 8 to10
Ingredients
4 small, overripe bananas
¾ cup granulated sugar
1 stick (½ cup) unsalted butter, melted and cooled, plus more for greasing pan
1 tsp vanilla extract
¼ cup plain Greek yogurt
2 large Gelson's eggs
2 cups all-purpose flour, plus more for dusting
1 tsp baking soda
½ tsp baking powder
½ tsp kosher salt
Directions
Preheat the oven to 350°. Grease a bread pan measuring 8 ½ x 4 ½ inches with butter, and coat it with flour.

In a medium bowl, mash the bananas until no clumps remain. Whisk in the sugar, butter, vanilla, and yogurt until smooth. Whisk in the eggs until combined.

In a large bowl, whisk together the flour, baking soda, baking powder, and salt.

Pour the wet ingredients into the dry ingredients and gently whisk, just until combined.

Fill the bread pan ⅔ full with batter.

Bake for 45 minutes, or until a toothpick inserted into the center comes out with moist crumbs. Let the bread cool in the pan for ten minutes, and then transfer it to a wire cooling rack.