Recipes
Classic Chicken Salad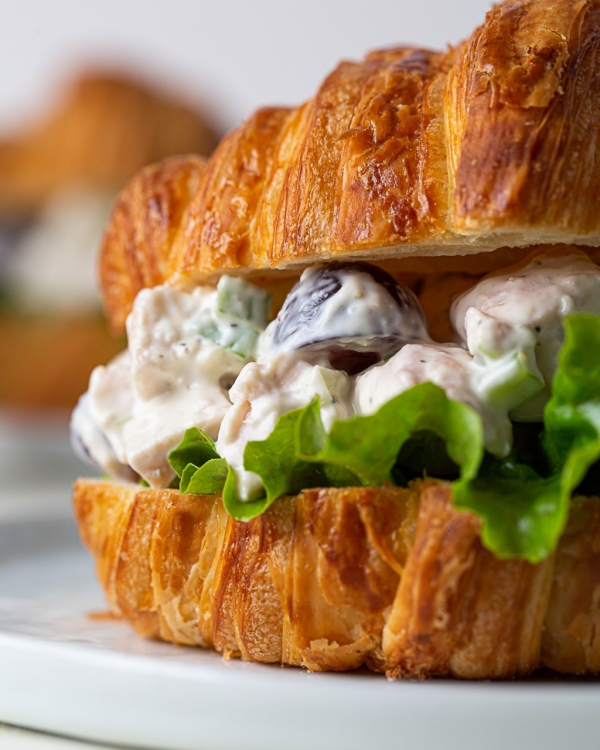 We've all been eating a lot of cold salads this spring. They're so easy to throw together, and they use up the spare ingredients left over from preparing other meals — a lonely vegetable or fruit that might otherwise go to waste. This chicken salad is an easy tumble of celery, green onion, and red grapes. We've folded mayonnaise and Dijon mustard through it, and we like how their creaminess sets off the sweet fruit and the green onion's mild bite. It's texturally pleasing too: crisp, juicy, and chewy.
All in all, it's just what you want to tuck into a sandwich or a lettuce wrap. For variety, we'll sometimes put a scoop on top of a salad — think spinach and toasted pecans. And it's nice on a brown rice bowl with slices of avocado, sweet quick-pickled cucumber, and spicy microgreens.
Our tips: If you've got the whole family working and schooling from home, make a double batch — it'll take care of lunches for a few days. And if you're out of some of the staples, no worries. You can sub in yellow mustard for Dijon, red onions for green onions, and apples for grapes.
Servings: 8
Ingredients
1 ½ lb Gelson's boneless, skinless chicken breasts
Kosher salt, to taste
Black pepper, to taste
¾ cup mayonnaise
1 Tbsp Dijon mustard
¾ cup small-diced celery
¼ cup chopped green onion
1 cup halved red grapes
Directions
Preheat the oven to 375°.

Season the chicken breasts with salt and pepper, and place them on a baking sheet. Bake for 18 to 20 minutes, or until the internal temperature of each breast has reached 165°. Allow them to cool completely in the refrigerator, about 35 to 40 minutes.

Once cool, medium dice the chicken and transfer it to a medium bowl.

Add the mayonnaise, mustard, celery, green onion, and grapes and stir to combine.

Adjust seasoning with salt and pepper if necessary.

Serve as a sandwich or as a side. Note: the chicken salad will keep in the refrigerator for up to 3 days.