Dessert Recipes
Classic Chocolate Milkshake
Imagine you're at a diner, perched up on a red-vinyl-upholstered stool, biting into the best burger ever. What are you drinking? A chocolate milkshake, obviously!
This recipe is basically the platonic ideal of a chocolate shake: We use a whole pint of ice cream, oodles of chocolate sauce, and — this is key — just a pinch of salt to bring out the chocolaty flavor. Then, we top it off with a swirl of whipped cream, a drizzle of indulgent chocolate, and of course, a bright red maraschino cherry.
It's sweet, simple, slurpable goodness — perfect for a fun, family-friendly treat.
Serves: 1 to 2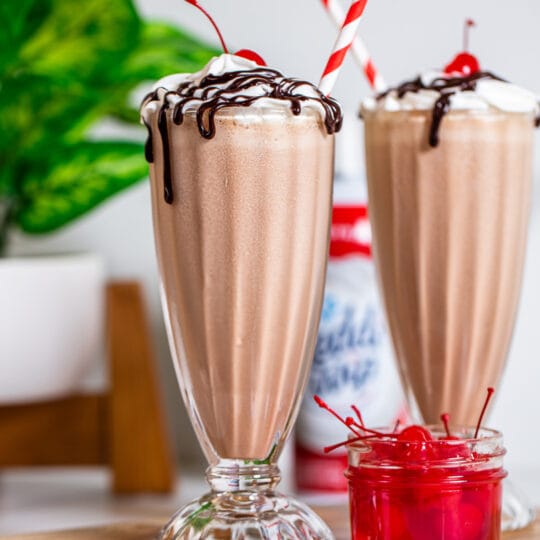 Dessert
Classic Chocolate Milkshake
Ingredients
3 Tbsp chocolate sauce, plus more for drizzling
Whipped cream, for topping
1 maraschino cherry, for garnish
Directions
In a blender, combine the ice cream, milk, chocolate sauce, and a small pinch of salt.

Blend on medium-high speed until combined.

Pour the milkshake into a large glass. Top with whipped cream, a drizzle of chocolate sauce, and a maraschino cherry. Enjoy!
Recipe adapted from: Tastes Better From Scratch