Appetizer Recipes
Classic Grilled Artichokes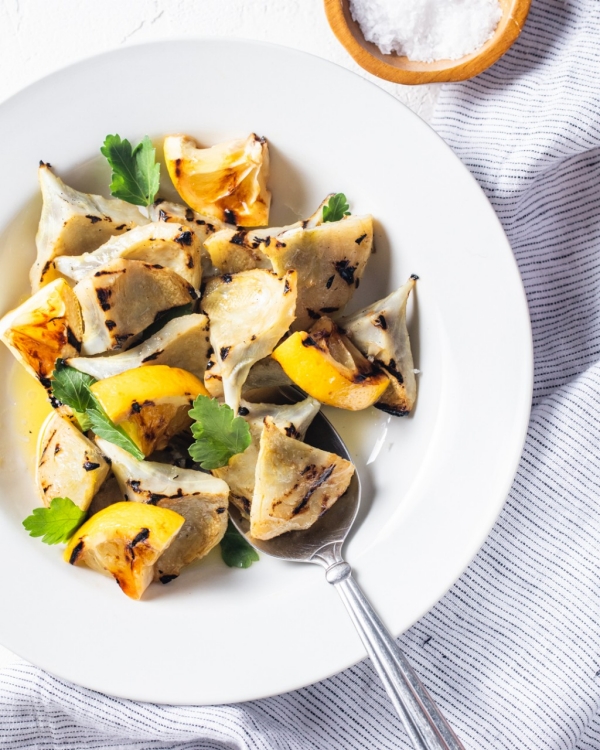 On the grill, artichokes develop a lovely, roasty char, but their hearts stay soft and creamy — squeeze a caramelized lemon over the top, and they're a delicacy. And yet so utterly, perfectly simple.

Grilled artichokes make a nice change of pace from the usual grilled veggie rotation. And though they do taste amazing all by themselves, they're also versatile: We love them tossed in Green Goddess dressing, slathered in chimichurri sauce, smashed on grilled bread — or to gild the lily even further, tucked in a grilled cheese sammie with gouda and tiny bit of hot sauce.

Our tips: In a pared down recipe like this one, with just four ingredients, each one really counts. Make sure you use a good quality extra virgin olive oil with more fruit than pepper and grass. And, if you're looking for a wine pairing, try a bottle of J Pinot Gris. It's full of tart fruit and crisp minerality — just the stuff to complement the artichokes' smoke and lingering sweetness.
Servings: 4
Ingredients
4 large artichokes

1 Tbsp kosher salt
3 lemons, halved
3 Tbsp extra virgin olive oil
Directions
Slice 1 inch off the leafy top end of the artichokes. Trim the base of the stem and remove the stems' fibrous outer layer. Pull off the small, tough leaves, and snip off thorny tips with scissors.
In a large pot, bring 1 ½ inches of water to a boil. Juice 1 of the lemons into the pot, and then put the rinds in too. Add the salt and artichokes.
Cover the pot and bring it to a boil, then reduce heat and simmer until a knife tip slides easily into artichoke bottoms, 30 to 40 minutes.
Drain the artichokes and let stand until cool enough to handle.
Meanwhile, heat a grill to medium (350° to 450°).
Quarter each artichoke lengthwise, and scrape out the fuzzy centers. Brush all over with olive oil.
Put the artichokes on the grill until lightly browned, about 10 minutes total, turning once at the midpoint.
Add 2 lemons to the grill, cut side down, and grill until caramelized and fragrant, about 3-5 minutes.
Squeeze the grilled lemons over artichokes and serve warm.