Dinner Recipes
Cobram Caprese
This very simple dish brings out winter tomatoes' flavor by roasting them with delicious olive oil.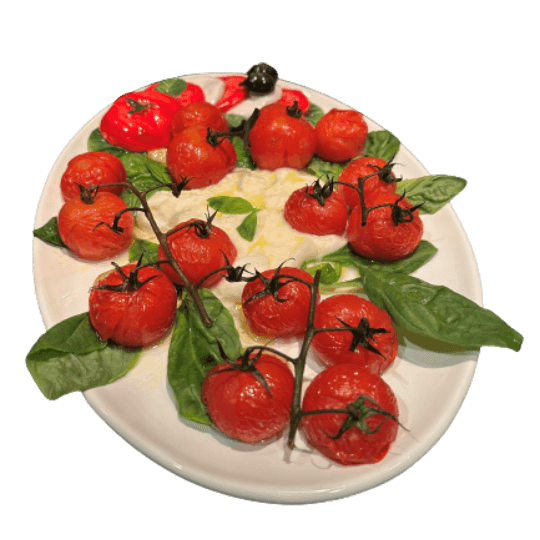 Dinner
Cobram Caprese
Serves: 5
Ingredients
1 16-ounce package cocktail tomatoes on the vine (choose a pack with smaller tomatoes), vines cut into 5 pieces with equal numbers of tomatoes attached to each.
4 tablespoons Cobram classic extra virgin olive oil, divided
1/4 teaspoon Le Saunier de Camargue fleur de sel sea salt
8 ounces Di Stefano Burrata cheese
5 fresh small, tender basil sprigs
Fini organic balsamic reduction
Directions
Preheat the oven to 400° Fahrenheit.
Place tomatoes on a baking sheet lined with parchment and toss them with 2 tablespoons of Cobram classic extra virgin olive oil. Sprinkle with salt. Roast tomatoes for about 12 to 15 minutes (depending on their size) until they begin to shrivel.
Meanwhile, place the cheese in the center of a serving dish and drizzle with the remaining 2 tablespoons of olive oil. Garnish the plate with basil sprigs. Arrange warm tomatoes on the vine around the Burrata cheese. Drizzle everything with balsamic reduction. Serve immediately.