Recipes
Coconut Chicken Curry Recipe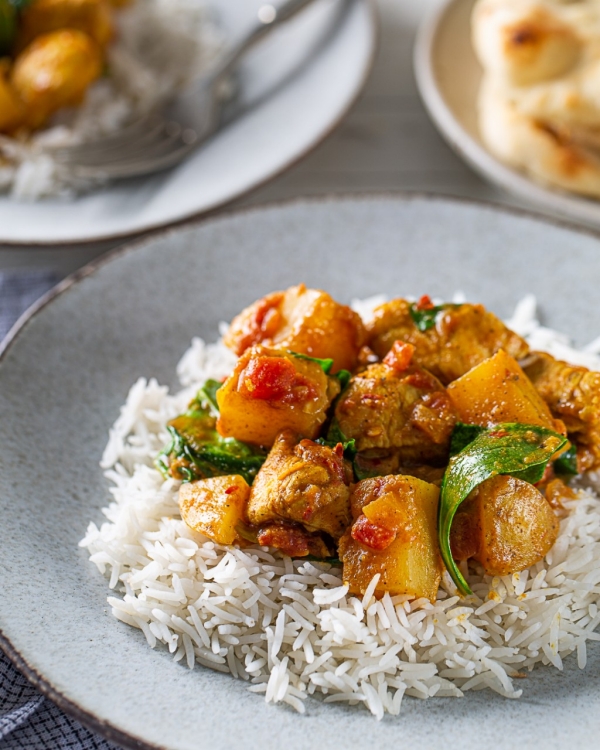 A great curry is a thing of beauty, so why are there so many sub-par curries? It's really all about finding the right recipe. Some recipes are timid about adding enough spice for layers of flavor. Some overload the final result with a sauce that's just plain goopy. If you've been searching for a go-to recipe that avoids those pitfalls and leads you to curry victory, you've found it here. The spices and aromatics blend together to create a rich, satisfying sauce.
If you have it in the pantry, use jasmine rice in this recipe. It's a long-grain variety with a floral aroma and a soft, sticky texture. Basmati rice, another long-grain variety, is a good substitute, but it does best when it soaks for at least 30 minutes before cooking, so allow time for that in your prep. Another idea would be to skip the rice altogether and serve the curry with naan, the leavened, oven-baked Indian flatbread, which can be used to scoop up every last drop of sauce.
Our tip: an overnight stay in the fridge allows the flavors of this curry to meld even more, and any leftovers can be warmed up in the microwave for lunch the next day.
Servings: 4 to 6
Ingredients for the Coconut Chicken Curry
2 cups jasmine rice
4 Tbsp extra-virgin olive oil, divided
½ medium yellow onion, diced small
3 small Yukon gold potatoes, diced
1 3-inch piece ginger, peeled and grated
5 garlic cloves, thinly sliced
1 ½ Tbsp ground coriander
1 ½ Tbsp curry powder
¾ tsp crushed red pepper flakes
1 lb boneless, skinless chicken breasts, cut into 1-inch cubes
Kosher salt, to taste
Black pepper, to taste
1 14.5-oz can diced tomatoes with juices
1 14-oz can coconut milk
2 Tbsp lime juice
1 Tbsp fish sauce
1 ½ Tbsp brown sugar, packed
5 oz spinach (thawed and drained, if frozen)
Naan (optional)
How to Make the Coconut Chicken Curry
Cook the rice according to the package instructions.

In a large skillet, heat 3 tablespoons of the olive oil over medium heat, and then add the onion and potatoes and cook until the onion begins to soften, about 2 to 3 minutes.

Add the remaining tablespoon of olive oil, ginger, garlic, coriander, curry powder, and red pepper flakes. Stir and cook until fragrant, about 1 minute.

Add the chicken, season the mixture with salt and pepper, and stir to coat the chicken in spices. Cook, stirring occasionally, until the chicken is brown on both sides, about 5 minutes.

Add the tomatoes and their juices, and stir to scrape up any of the delicious bits stuck on the bottom of the pan.

Add the coconut milk, lime juice, fish sauce, and brown sugar. Bring to a simmer and cook for 10 to 12 minutes, stirring occasionally, until the chicken is cooked to 165° and the potatoes are tender.

Add the spinach and cook until it's wilted, about 2 minutes.

Serve the chicken and vegetables hot on a bed of rice with a side of naan.