Dinner Recipes
Coconut Chicken Curry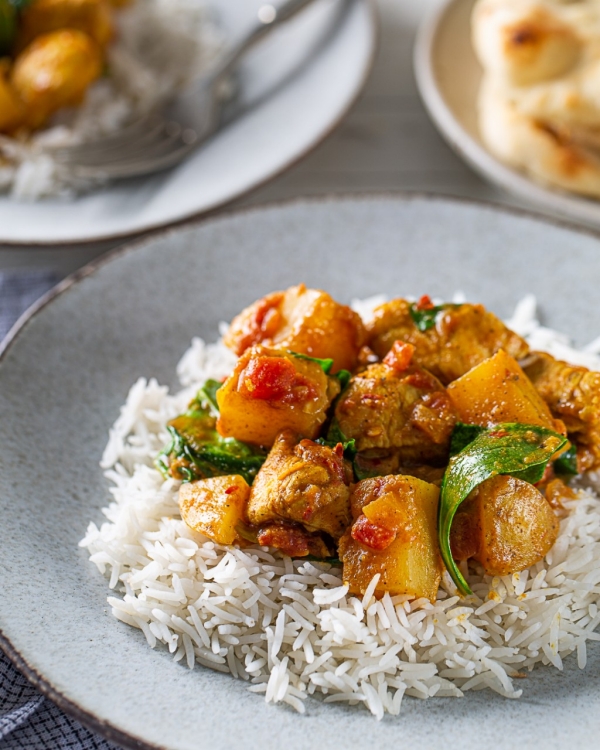 Curry is a hallmark of Indian cuisine. But curiously enough, no such word exists in the languages spoken on the subcontinent. According to The Atlantic, the closest words you'll hear are khari or caril, which usually refer to a type of sauce or gravy — the word "curry" was likely born from a "colonial misunderstanding" on the part of the British. As a result, a wide variety of saucy, spicy stews and ragouts get lumped together under the enormous "curry" umbrella.
Nomenclature aside, a great curry is a thing of beauty. Here, we have a stew that draws on some typical Indian flavors — think coconut milk, tomato, spinach, lime, and fresh ginger. Of course, there's plenty of curry powder, which here in the U.S. usually contains the likes of turmeric, fenugreek, cumin, black pepper, and cardamom. And we add a splash of fish sauce for funky, umami depth. All of those spices and aromatics blend together to create a sauce that turns chicken and potatoes into a rich, satisfying meal.
If you have it in the pantry, use jasmine rice in this recipe. It's a long-grain variety with a floral aroma and a soft, sticky texture. Basmati rice, another long-grain variety, is a good substitute, but it does best when it soaks for at least 30 minutes before cooking, so allow time for that in your prep. Another idea would be to skip the rice altogether and serve the curry with naan, the leavened, oven-baked Indian flatbread, which can be used to mop up every last drop of sauce.
Our tip: an overnight stay in the fridge allows the flavors of this curry to meld even more, and any leftovers can be warmed up in the microwave for lunch the next day.
Servings: 4 to 6
Ingredients
2 cups jasmine rice
4 Tbsp extra-virgin olive oil, divided
½ medium yellow onion, diced small
3 small Yukon gold potatoes, diced
1 3-inch piece ginger, peeled and grated
5 garlic cloves, thinly sliced
1 ½ Tbsp ground coriander
1 ½ Tbsp curry powder
¾ tsp crushed red pepper flakes
1 lb boneless, skinless chicken breasts, cut into 1-inch cubes
Kosher salt, to taste
Black pepper, to taste
1 14.5-oz can diced tomatoes with juices
1 14-oz can coconut milk
2 Tbsp lime juice
1 Tbsp fish sauce
1 ½ Tbsp brown sugar, packed
5 oz spinach (thawed and drained, if frozen)
Naan (optional)
Directions
Cook the rice according to the package instructions.

In a large skillet, heat 3 tablespoons of the olive oil over medium heat, and then add the onion and potatoes and cook until the onion begins to soften, about 2 to 3 minutes.

Add the remaining tablespoon of olive oil, ginger, garlic, coriander, curry powder, and red pepper flakes. Stir and cook until fragrant, about 1 minute.

Add the chicken, season the mixture with salt and pepper, and stir to coat the chicken in spices. Cook, stirring occasionally, until the chicken is brown on both sides, about 5 minutes.

Add the tomatoes and their juices, and stir to scrape up any of the delicious bits stuck on the bottom of the pan.

Add the coconut milk, lime juice, fish sauce, and brown sugar. Bring to a simmer and cook for 10 to 12 minutes, stirring occasionally, until the chicken is cooked to 165° and the potatoes are tender.

Add the spinach and cook until it's wilted, about 2 minutes.

Serve the chicken and vegetables hot on a bed of rice with a side of naan.