Dessert Recipes
Coconut Mango Ice Pops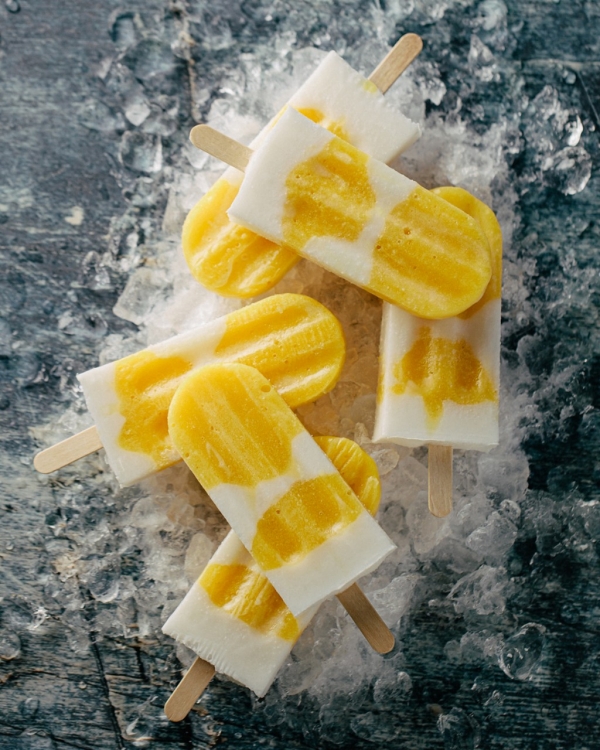 Sweet, pulpy mango, vibrant pineapple juice, and creamy, coconut yogurt frozen into layers — this pop is so fruity, tangy, and scrumptious. We love the musky, savory note the coconut milk adds to the whole fandango, and the mid-pop textural switcheroo from juicy to creamy is positively delightful. It's also stunning with the white layer and the brilliant yellow-orange layer. Hello, culinary color-blocking.
But all that fanciness aside, it's still a simple ice — easy to make, deliciously cold, and dearly loved by kids of all ages. Our little scholars love these pops as an after-school snack, and they're happy to have one after dinner, too. They're just sweet enough to pass muster as a dessert, but not too sweet. We adults like a popsicle in the late afternoon, when the sun is high and hot and we're in that lull between meals, the one you never want to fill with a heavy snack that will put you to sleep.
Yield: 10 popsicles
Ingredients

Mango Puree:

2 ½ cups frozen mango chunks
½ cup pineapple juice

Coconut Puree:

1 cup canned coconut milk
2 Tbsp granulated sugar
2 Tbsp low-fat yogurt
2 Tbsp water
Special equipment: popsicle molds

Directions
In a blender or food processor, puree the mango chunks and pineapple juice until smooth. Transfer to a bowl and set aside.

In another bowl, combine the coconut milk, sugar, yogurt, and water.

Pour 2 tablespoons of the mango puree into each popsicle mold. Place the molds in the freezer for 15 minutes until almost solid.

Remove the molds from the freezer, add 1 tablespoon of the coconut puree to each mold. Place the molds in the freezer for 10 more minutes.

Remove the molds from the freezer and add 1 tablespoon of the mango puree. Insert wooden sticks into the popsicle molds. Freeze for another 10 minutes.

Remove the molds from the freezer and pour the remaining coconut puree into the molds until the liquid reaches the top of the molds.

Return the molds to the freezer for at least 4 hours to fully set.
Recipe source: The Little Epicurean