Recipes
Cold Brew Oatmilk Frappuccino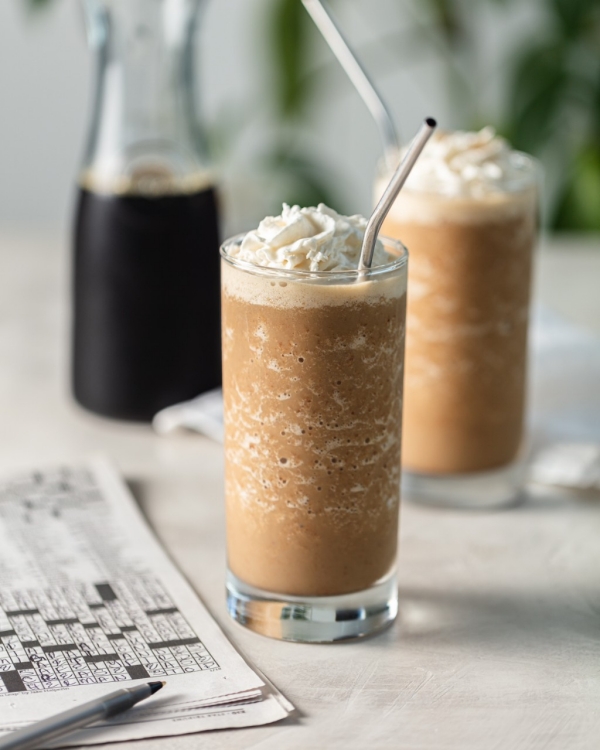 What's not to love about the frappuccino? It offers all the comfort of a creamy frozen dessert — plus a full serving of caffeine to stimulate the brain.
Oatmilk makes a dreamy frappuccino. It has a rich, creamy texture and a neutral flavor, so it lets the coffee shine. We froze the oatmilk in ice cube trays, and then whirled it up with a super smooth, robust cold brew and a wee bit of date caramel — a jammy, sweet paste of ground dates. The result is a frappuccino as indulgent as any, especially if you add a big, fat dollop of nondairy whipped cream, but without all the milk and sugar. We like that you can make this frappuccino slightly sweet or rich and caramelly, just by adding more or less of the date caramel. It tastes so good, you'll be tempted to drink two — resist the urge or you'll be climbing the walls. That cold brew packs a wallop!
Oatmilk frappuccinos are more fun than a smoothie in the morning and a terrifically effective afternoon boost. This recipe makes a lot of date caramel, so you could double the recipe and make frappuccinos for the whole family … and then take everyone out for a run around the block.
Our tip: Date caramel is a nifty sweetener, so put your leftovers to work. You can swirl it through all kinds of things, from smoothies to oatmeal. It's also pretty darn delightful on a piece of hot buttered toast.
Servings: 2
Ingredients
2 cups oatmilk
15 dates, pitted
3 to 6 Tbsp hot water
2 cups unsweetened cold brew coffee
Nondairy whipped cream, optional
Special equipment: standard ice cube tray
Directions
To make oatmilk ice cubes: Pour the oatmilk into a standard ice cube tray and freeze overnight. You should have about 16 ice cubes.

To make the date caramel: In a food processor, pulse the dates, until finely chopped.

With the food processor running, add the hot water in a slow, steady stream, to create a paste. You will need to scrape down the sides periodically. Add more water if needed, 1 teaspoon at a time so the paste doesn't get too thin; it should be the consistency of smooth peanut butter. Set it aside. NOTE: You will have leftover date caramel. It can be stored, covered, in the refrigerator for 2 weeks.

To make the frappuccino: In a blender, combine the oatmilk ice cubes and cold brew coffee and purée on high until smooth.

Add 3 to 5 tablespoons of the date caramel, 1 tablespoon at a time, blending well between each addition. Taste and adjust flavor as needed, adding more date caramel to sweeten.

Divide the frappuccino between two pint glasses and top with nondairy whipped cream, if desired.
Recipe adapted from: Minimalist Baker