Dinner Recipes
Copycat Sizzler's Malibu Chicken
Inspired by Sizzler's classic menu item, Malibu Chicken, this DIY version tastes just like the original. The whole thing is actually quite simple: tender, crispy breaded chicken and salty-sweet folds of deli ham topped with a blanket of melty Swiss cheese. We love it dipped in a tangy Dijon mustard!
Whip up this comforting dish on a weeknight as a cure for the mid-week blues, or on a Friday night with friends and a couple of cold beers.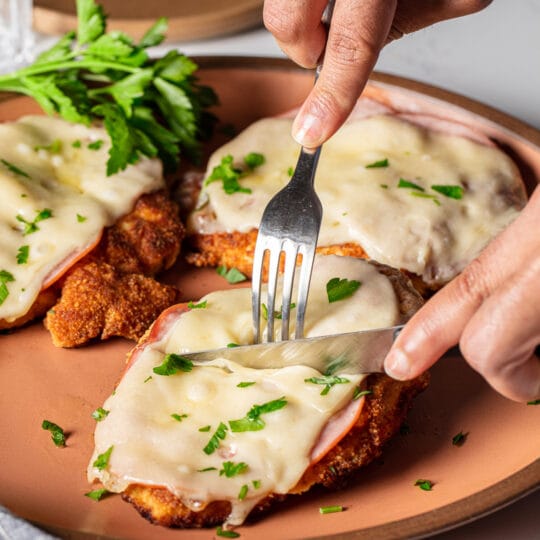 Dinner
Copycat Sizzler's Malibu Chicken
Serves: 4
Ingredients
4 boneless skinless chicken breasts
1 cup Gelson's organic all-purpose flour
1 tsp freshly ground Gelson's black pepper
3 Tbsp Gelson's 100% California extra virgin olive oil
Freshly chopped Gelson's parsley, for garnish
Grey Poupon Country Dijon mustard, for serving
Special Equipment: meat mallet
Directions
Preheat the oven to 350°.

On a large cutting board, place the chicken breasts between two pieces of plastic wrap. Using a meat mallet, evenly pound the chicken to about ½"-thick.

In one shallow dish, whisk together all-purpose flour, salt, and black pepper. In a second shallow dish, beat together the eggs until streak free. In a third shallow dish, add the breadcrumbs.

Working with 1 chicken breast at a time, dredge each breast in the flour, shaking off any excess. Fully coat them with the egg and then evenly coat them with the breadcrumbs. Transfer the breasts to a large plate.

In a large skillet, heat the olive oil over medium heat until it shimmers. One at a time, cook the chicken breasts for 4 to 5 minutes on each side, or until they're golden brown and register 165° on an instant-read thermometer. Transfer the cooked breasts to a clean baking sheet.

Layer each chicken breast with 2 slices of ham and 2 slices of swiss cheese. Bake for 5 to 7 minutes or until the cheese is melted.

Transfer the chicken to a large serving platter. Garnish with parsley and serve hot with a side of mustard.
Recipe source: Food