Recipes
Corn on the Cob Toppers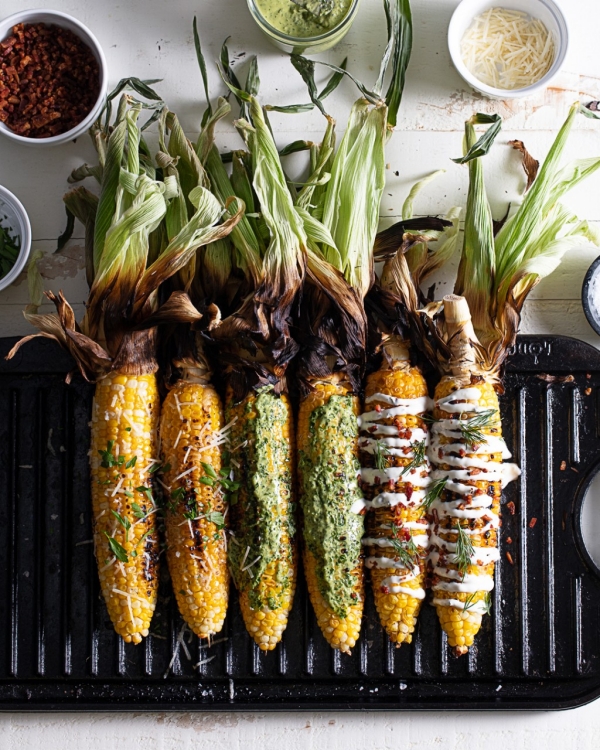 There are few pleasures more summery than eating roasted corn straight off the grill — and smothered in delicious toppings. Grilled corn is so sweet and smoky in its own right, it seems to crave salty, creamy, herby, spicy stuff, so that's where we went with these topper recipes.
Of course, corn on the cob is famous barbecue fare, and any or all of these will be perfect perched on a paper plate with the protein of your choice. But we also think they'd be fantastic at a socially distanced happy hour with your family — a beer and an ear (or two) of corn will make just about anyone happy, and they have the benefit of being individually portioned.
Yield: each recipe covers 6 ears of corn
Garlic and Parmesan Butter
Sweet cream butter infused with delightfully pungent garlic, salty Parmesan, and fresh parsley tastes wonderful on sweet corn — like they were always meant to be together.
Ingredients
1 stick unsalted butter
2 garlic cloves, minced
¼ cup grated Gelson's Parmesan cheese, plus more for garnish
2 Tbsp chopped parsley
Flake salt, to taste
Directions
Melt the butter in a small pan over low heat, add the minced garlic, and cook for 5 minutes, or until very fragrant.

Let the butter and garlic mixture cool until it is solid, but still soft.

Add the Parmesan.

Brush the butter over hot, roasted corn and garnish with additional Parmesan, parsley, and flake salt. Note: Save the leftover garlic and Parm butter. You can use it to make garlic toast, dress pasta, or fry an egg.
Bacon and Ranch Topper
We love the combination of smoky, salty bacon and tangy ranch dressing so much, we could almost eat it like soup — but it's even more mouthwatering on perfectly roasted sweet corn.
Ingredients
½ cup ranch dressing
½ cup minced crispy Gelson's bacon
2 Tbsp fresh dill, picked from stems
Black pepper, to taste
Directions
Drizzle the ranch dressing onto roasted corn and sprinkle with the crispy bacon and fresh dill.

Garnish with a couple cracks of black pepper.
Chimichurri Aioli
A creamy take on the traditional Argentinian sauce, this one has all the herbs and garlic, the bright zing of vinegar, the kick of red pepper flakes — plus generous dollops of mayo and sour cream. It's ridiculously good on a snappy, sweet ear of corn. In fact, we want to eat it on everything.
Ingredients
¾ cup chopped parsley
½ cup chopped cilantro, plus more for garnish
¼ tsp dry oregano
1 pinch red pepper flakes
1 garlic clove, minced
¼ cup olive oil
1 Tbsp red wine vinegar
¼ tsp kosher salt
¾ cup mayonnaise
2 Tbsp sour cream
Directions
Place all of the ingredients in a food processor and blend until fully incorporated.

Spread the mixture over hot corn and garnish with additional cilantro. Note: Hold on to the leftover chimichurri aioli. It will be great on salads, veggie sandwiches, fish sticks, and French fries.