Recipes
Corn & Tomato Salad with Sambal Oelek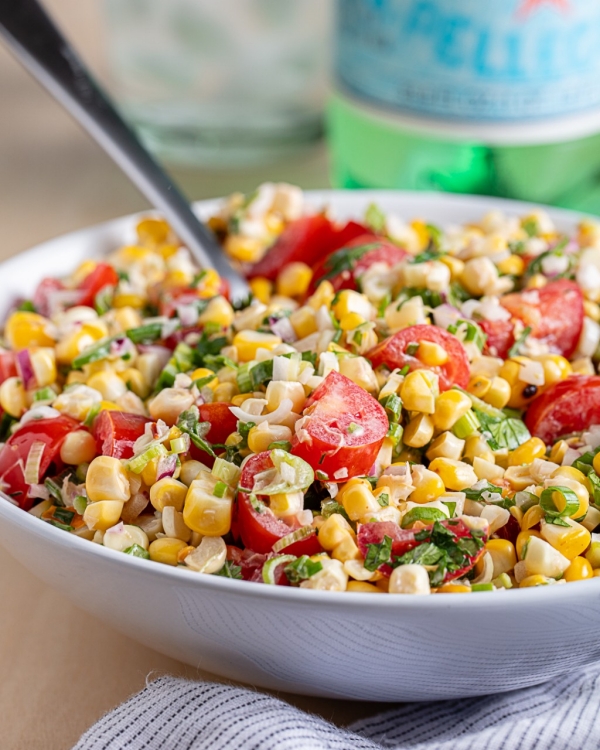 It's that time of year when we're up to our ears in corn (pun only somewhat intended). We love the fun of eating it straight off the cob, drenched in butter or our favorite herby, savory toppings. But there's something so breezy and summery about corn salads with juicy cherry tomatoes, fresh cilantro, grassy jalapeño, and spicy red onion. This one has all of that, plus some Indonesion-inspired flare: we also added sambal oelek and a little fish sauce!
Before it gets sliced off the cob, we like to grill the corn so the salad gets a subtle, smoky-sweet undercurrent to mellow out all those bright, acidic mix-ins. In this case, it also enhances the warm, chile spice of the sambal oelek and the umami of the fish sauce, which we whisk into a dressing of honey, lime juice, and mayonnaise. Coated over all the veggies, the dressing creates the perfect balance of brightness and bite, freshness and funk, sweetness and spice.
For all its flavor, this salad is super easy to whip up: once the corn is grilled, all that's left is a little chopping and a little whisking. It's the sort of thing you could throw together for a light, Sunday lunch, and then tuck the leftovers in the fridge to stir into some rice bowls during the work week. Need a snack to get you through your next Zoom meeting? Eat it like salsa with some thin, crispy tortilla chips. But if dinner's on your mind, the bright spice of this salad is great with pretty much any grilled meat — steak, chicken, salmon, you name it — and a large pour of tempranillo.
Servings: 6 to 8
Ingredients
1 Tbsp grapeseed oil
4 ears fresh corn
¼ cup mayonnaise
2 Tbsp lime juice
1 tsp sambal oelek
1 tsp honey
½ tsp fish sauce
1 cup quartered cherry tomatoes
½ jalapeño, minced
8 green onions, chopped
¼ cup minced red onion
2 Tbsp chopped cilantro
Kosher salt, to taste
Black pepper, to taste
Directions
Heat a grill pan to medium-high or a grill to high. Brush the grapeseed oil on the grates of the grill as it heats.

Roast the corn on the grill or grill pan, rotating every 2 minutes, until the corn is lightly browned. Transfer the corn to a plate to cool, and then cut the corn kernels off the cobs.

In a medium bowl, add the mayonnaise, lime juice, sambal oelek, honey, and fish sauce. Whisk to combine.

Add the cherry tomatoes, jalapeños, green onions, red onions, cilantro, and corn kernels to the bowl of dressing. Season with salt and pepper and stir to combine.

Enjoy immediately or store in an airtight container in the refrigerator for up to 3 days.