Breakfast Recipes
Cornmeal Pancakes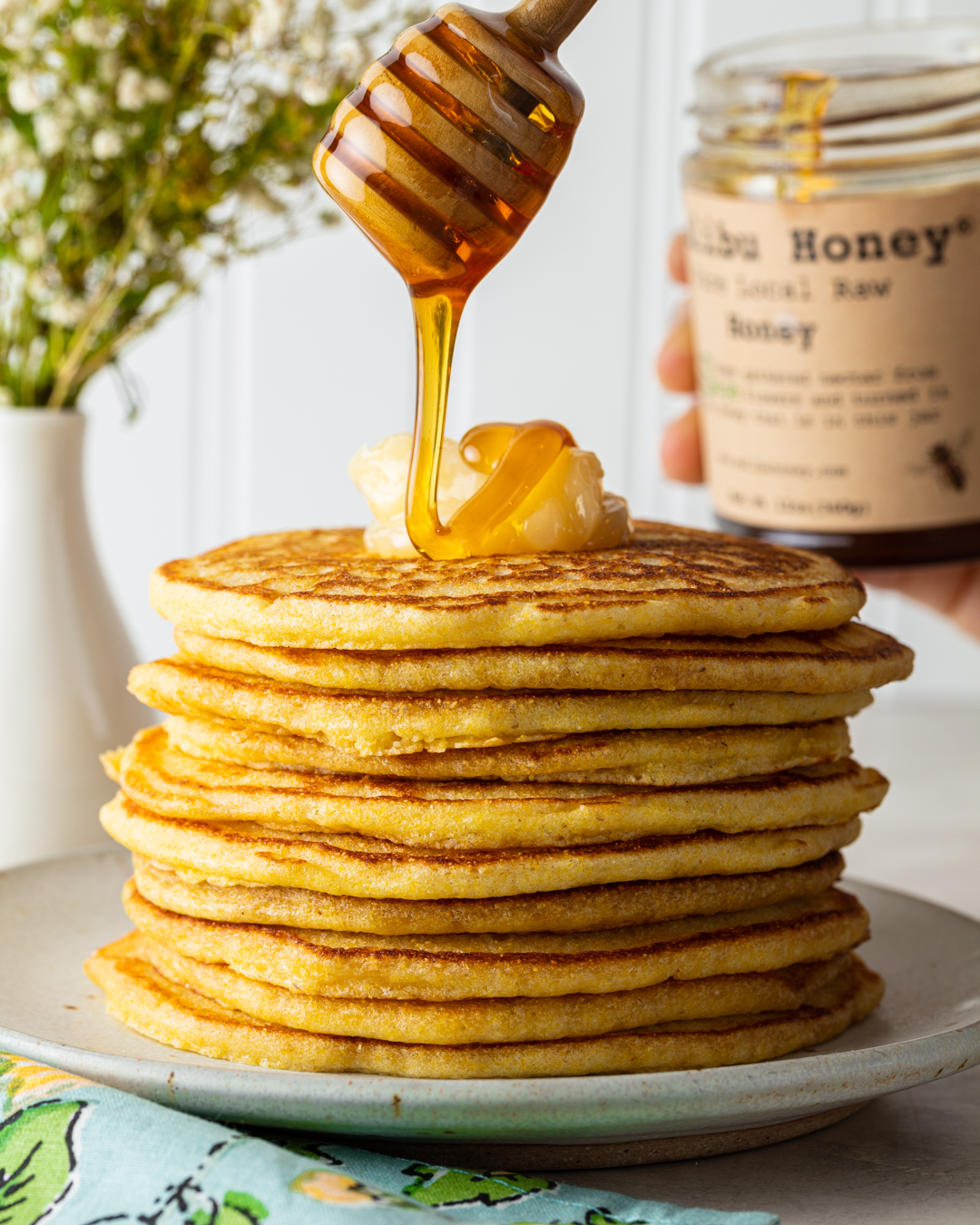 We're unapologetic champions of the Saturday morning pancake over here. That means we aren't afraid of a sweet stack (like these delicious buttermilk cakes, or these adorable, jiggly little souffle pancakes), the kind that may occasionally lead us straight back to bed to sleep it off.
Still, we also appreciate a cake that splits the difference between sweet and savory, especially for those Saturdays where we might have a few more things to do. That could be tackling a list of chores or simply staying conscious long enough to settle onto the couch with a cup of coffee and a novel.
Whatever you need to stay awake for, this light and buttery cornmeal cake will sustain you. The recipe is for a nice familiar buttermilk pancake, but we sub in cornmeal for half the flour. This creates a slightly leaner, understated cake, less of a blood sugar commitment than its big, fluffy counterpart. The corn and hint of sugar make these wonderfully corny cakes subtly sweet in themselves, which is balanced by the herbaceous sage-honey butter melted on top.
If you crave more sweetness, a drizzle of additional honey or maple syrup will take it up a notch. If you prefer savory, try topping them with a crumble of queso fresco and a sunny egg. (Note that the sage-honey butter is extra delicious with the cheese.) Whichever direction you take it, this pancake will start your day on a satisfying note — even if it's a weekday.
Servings: 4
Ingredients
For the sage-honey butter:
4 Tbsp unsalted butter, room temperature
1 Tbsp sage honey
⅛ tsp kosher salt
For the pancakes:
¾ cup all-purpose flour
¾ cup fine-ground yellow cornmeal
2 Tbsp granulated sugar
½ tsp baking powder
½ tsp baking soda
½ tsp kosher salt
1 ¼ cups buttermilk
2 large Gelson's eggs
3 Tbsp unsalted butter, melted and cooled
Spray oil
Directions
Preheat the oven to 300°.

To make the sage-honey butter: Fold together the softened unsalted butter, sage honey, and kosher salt until thoroughly combined. Set aside.

To make the pancakes: In a large mixing bowl, whisk together the all-purpose flour, yellow cornmeal, granulated sugar, baking powder, baking soda, and kosher salt.

In a liquid measuring cup, whisk together the buttermilk, eggs, and melted unsalted butter. Add the buttermilk mixture to the dry ingredients and whisk until smooth.

Heat a large nonstick skillet over medium heat. Coat with spray oil.

Working in batches, pour ¼ cup of the batter into the skillet for each pancake. Cook until the bottoms are golden, about 1 ½ minutes. Flip the pancakes and cook until the second sides are golden, about 1 minute more.

Transfer the pancakes to a baking sheet and place in the oven to keep warm. Repeat with the remaining batter, spraying more oil onto the skillet as necessary.

Serve the pancakes warm with the sage-honey butter.
Recipe adapted from: Bon Appetit
Calculate nutrition information for this recipe.