Lunch Recipes
Crab and Avocado Salad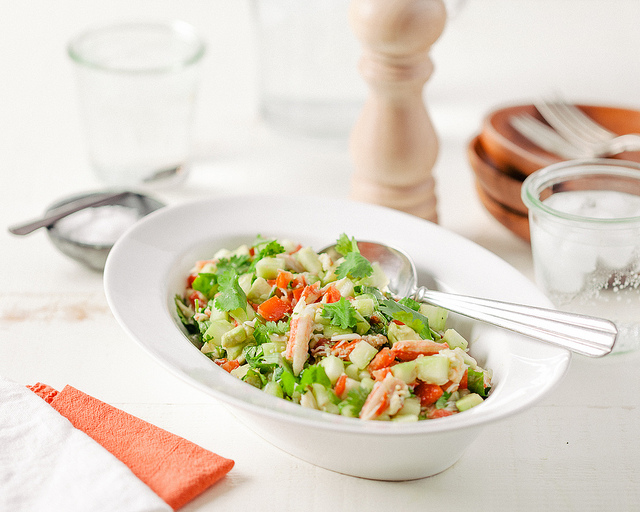 Sometimes, when your ingredients are very good — so fresh and delicious that they can stand on their own — the best thing you can do is to try not to fuss with them too much. That's how it is with this delightfully simple salad. It's just crab, creamy avocado, heirloom tomatoes, crunchy cucumbers, and tart slices of lime gently tossed with olive oil and finished with a little flake salt to pull it all together. Its flavors are bright and clean, its textures are crisp and refreshing, and we wouldn't add a thing.

Not to brag, but it's also a great looking salad. It's very pleasing when all the ingredients are the same size and shape! We served it in a bowl, but you could also tuck it into individual lettuce leaves, like a composed salad.

Our tips: Now that we've convinced you that its beauty is its simplicity, here are some fun ideas for fussing with it. For an appetizer, try adding a tiny bit of your favorite hot sauce and scooping it up with a nice, thick tortilla chip, like Chicas Corn Chips. It's also fantastic tossed in a light, chile-lime vinaigrette and rolled up in wrap.
Servings: 4 to 6
Ingredients
6 oz fresh crab meat, chopped
1 ripe avocado, diced
1 cup heirloom tomato, seeded and diced
1 cup cucumber, peeled, seeded, and diced
¼ cup cilantro, chopped
2 limes, peeled and cut into segments
1 tsp good olive oil
Flake salt, to taste
Directions
Combine all the ingredients, and gently toss them together with the oil.
Season with salt and serve immediately.