Dinner Recipes
Creamy Garlic Shrimp
There's nothing quite like a shrimp sauté: The little shellfish get a nice crispy exterior from the hot oil but stay tender and chewy on the inside. You get the best of both texture worlds while letting the shrimp's briny-sweet flavor shine!
Here, we coat the sautéed shrimp in a pan sauce made with butter, white wine, heavy cream, Parmesan, and a bunch of garlic (six whole cloves!). No surprise, the sauce is full of punchy allium flavor. It's also creamy but not heavy — a Goldilocks of a sauce. That's due in part to the lemon juice, which brightens everything, and the parsley, which adds fresh, herbaceous flavor.
We like to toss the shrimp and its sauce with a long, slurpable pasta, like spaghetti. The creamy, garlicky sauce lightly coats the noodles, making for a pasta that's simple yet delicately rich — a far cry from the decadence of, say, Alfredo. As one of our tasters kept repeating in the test kitchen, it's a beautifully balanced dish.
Pair the creamy shrimp spaghetti with a green salad and a citrusy sauvignon blanc, and you'll have everything you need for a casually luxe date night. Not in a pasta mood? The saucy shrimp is also great spooned over rice and served with crisp green beans.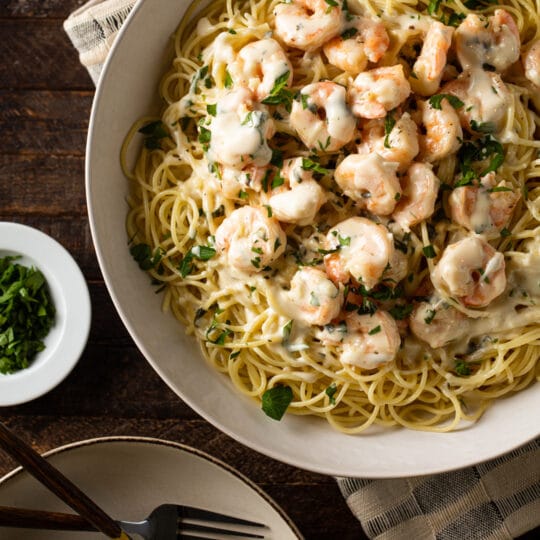 Dinner
Creamy Garlic Shrimp
Serves: 4
Ingredients
1 lb large shrimp, peeled and deveined
Freshly ground Gelson's black pepper, to taste
1 Tbsp extra virgin olive oil
½ cup dry white wine or chicken broth
1 tsp freshly squeezed lemon juice
¾ cup freshly grated Parmesan cheese
1 lb cooked spaghetti (optional)
2 Tbsp fresh chopped parsley, for garnish
Directions
Season the shrimp with salt and pepper.

Heat the olive oil in a large skillet over medium-high heat. Add the shrimp and sauté for 1 to 2 minutes per side, or until just cooked through and pink. Transfer to a bowl and set aside.

Melt the butter in the same skillet. Add the garlic and sauté until fragrant, about 30 seconds.

Add the wine or chicken broth, bring it to a simmer, and cook until the liquid is reduced by half.

Add the heavy cream, reduce the heat to medium low, and bring the sauce to a gentle simmer, stirring occasionally. Season with salt and black pepper.

Stir in the lemon juice and Parmesan cheese and simmer, stirring occasionally, until the cheese has melted and the sauce thickens, about 2 minutes.

Add the shrimp to the pan and stir to coat it with the sauce. Season with salt and black pepper, if needed.

Toss the shrimp with cooked pasta or spoon it over rice, garnish with parsley, and serve hot.
Recipe adapted from: Cafe Delites