Recipes
Crispy Skin Salmon, Stir-Fried Ginger-Cabbage & Celery Root Purée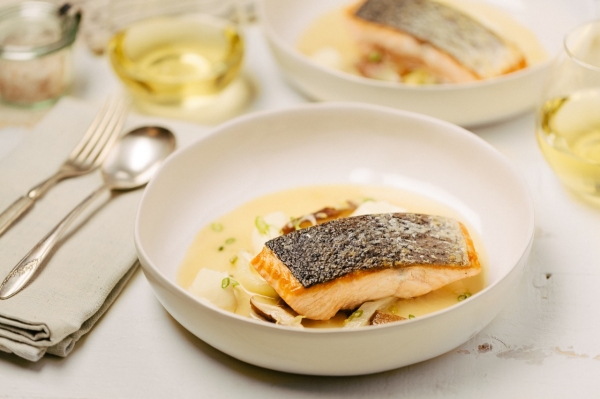 For this dish, three distinct elements come together to form a harmonious whole. The salmon is silky and tender with a lovely crispy, salty skin. All those lush textures and flavors are rounded out by earthy mushrooms and crisp cabbage sautéed in a bright rice wine vinegar, tangy miso, and honey. And then the celery root purée comes along — unexpectedly delicate and creamy — to marry all the flavors together.

It's the kind of stunning dish that will make you feel like a rockstar chef. Yet for all its layers, it's super easy to pull off because each piece of it is so simple. Start with the celery root purée because it needs a little longer to cook. While it's cooking, prep up your salmon and stir fry, but don't start them until the purée is done; each of them comes together in minutes.

Our tip: Do not leave the salmon skin in the pan. It's a thing of beauty, and you want it on the plate. Plus, it's texturally wonderful — crunchy and savory like a fish version of chicharrones.
Serves 4
Celery Root Purée
Ingredients
1 1-lb celery root, peeled and chopped
Small yellow onion, chopped
1 large clove garlic
2 cups milk
4 Tbsp cold butter
Salt and lemon juice, to taste

Instructions
In a medium pot, combine the celery root, onion, garlic, and milk, and simmer on low heat until tender, about 30 minutes.
Remove the veggies from the heat and pass them through a strainer, reserving the liquid.
Transfer the veggies to blender and process, gradually getting faster. Add liquid slowly, just enough to blend the purée.
Add the cold butter and blend to desired consistency. Season with salt and lemon juice.
Crispy Skinned Salmon
Ingredients
4 4-oz Scottish salmon fillets, skin on
1 Tbsp olive oil
Instructions
Preheat the oven to 350º. Pat the salmon skins and fIesh with a paper towel to make sure they are dry.
In a large, oven-safe, nonstick pan, heat the oil over high heat until it begins to smoke a bit.
Add the salmon, skin side down in the pan and press lightly. Cook until the skin begins to brown, about 4 minutes if the pan is at the proper temperature.
Slide the pan into the oven for 3 to 6 minutes (the longer time will yield well-done meat) to finish the salmon.
Serve the salmon skin up on a bed of the stir-fried veggies with a side of celery root purée.
Stir-Fried Ginger-Cabbage
Ingredients
8 oz shiitake mushrooms, cleaned and stemmed
1 small yellow onion, chopped
1 tsp white miso paste
1 tsp rice wine vinegar
1 tsp honey
1 tsp fresh ginger, minced
½ cup water
1 scallion
¼ cup dry white wine
1 Tbsp extra virgin olive oil
1 clove garlic, sliced
Instructions
In a large sauté pan, heat the olive oil over medium heat, add the shiitake, and cook until any water they sweat has evaporated, and they begin to get some color.
Add the ginger and sliced garlic, sauté them for 30 seconds.
Add the cabbage, and sauté it for 45 seconds to 1 minute.
Add the miso, honey, vinegar, and toss together with the veggies until incorporated.
Add the water, and bring the liquids to a simmer. Season with salt to taste.
Remove from the heat, and sprinkle with scallions.