Dinner Recipes
Croque Madame
The sandwich is a labor of love, but each bite tastes fantastic. Our tips: Take your time with the béchamel sauce — coddle it and love like a baby. And splurge on the ingredients. Use your favorite sourdough (you know the one) and buy the fancy-schmancy ham. Eat this sandwich while wearing cashmere sweatpants and watching your favorite shows, because when you finish, all you're gonna wanna do is lay supine on a Roche Bobois sofa and stare at the ceiling.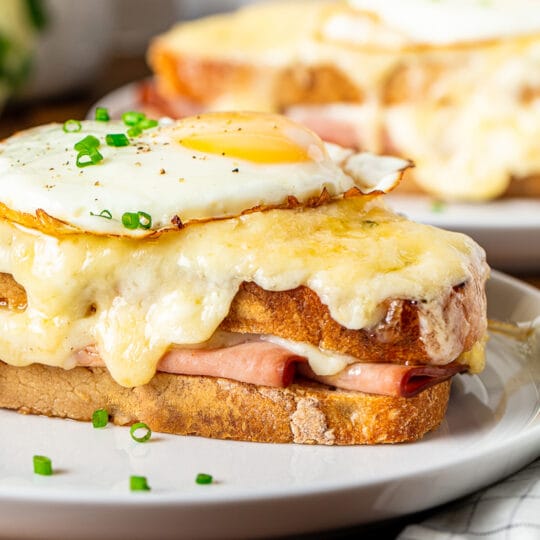 Dinner
Croque Madame
Serves: 4
Ingredients
6 Tbsp unsalted butter, divided
3 Tbsp Gelson's organic all-purpose flour
½ cup grated Parmesan cheese
12 oz Gruyére cheese, grated, divided
8 slices pre-sliced sourdough bread
Nonstick spray oil, for pan
Directions
To make the bechamel sauce: In a small saucepan, melt 3 tablespoons of the butter over medium heat. Whisk in the flour, stirring constantly. Cook until fragrant, about 2 minutes.

Add the milk in ¼ cup increments, stirring constantly to prevent lumps. Add the bay leaf and reduce the heat to low. Cook, stirring occasionally, for 8 minutes or until thickened.

Discard the bay leaf and whisk in the Parmesan cheese until smooth. Season with salt. Transfer the bechamel to a medium heatproof bowl and let it cool.

Mix half of the Gruyére into the bechamel sauce until combined. Set aside until ready to use.

To assemble the sandwiches: Divide the ham among 4 slices of bread. Cover the ham with about 2 tablespoons of bechamel, then close up the sandwiches. Reserve the remaining bechamel.

Heat a large skillet over medium-high heat. Add the remaining 3 tablespoons of butter and swirl until melted. Add 2 sandwiches to the skillet and cook for 2 to 3 minutes on each side, or until golden brown.

Transfer the sandwiches to a sheet pan. Repeat step 7 with the remaining 2 sandwiches.

Spread the remaining bechamel on top of the sandwiches and sprinkle the remaining gruyére cheese on top.

Preheat the oven to broil.

Wipe out the skillet and coat it with nonstick spray oil. Heat the pan over medium heat and crack 4 eggs into the skillet. Cook for 4 to 5 minutes or until the whites are set, the yolk is still runny, and the edges are browned.

While the eggs are frying, place the sandwiches in the oven. Broil for 2 to 3 minutes, or until the cheese is melted and slightly browned.

To serve, top each sandwich with a fried egg and enjoy immediately.
Recipe source: Food Network