Dinner Recipes
Cumin-Crusted Tri-Tip With Cilantro-Lime Chimichurri
Grilled steak is one of fall's most effortless meals, and this recipe has the perfect balance of smoky char and herby brightness. We marinate the tri-tip in tamari, toasted whole coriander and cumin, and lots of lime. We like how the rich, fermented soy and earthy cumin bring out the savory meatiness that, for us, defines steak. The lime is there to lighten things up — and tenderize the meat so it cooks up buttery soft and juicy.
We also grind up some of the toasted coriander and cumin to make a rub for the steaks. On the grill, the tamari and spices char up, creating a lovely crust on the steak. It seals in the meat's juices and flavor, but it also adds some great texture and a warm counterpoint to the chimichurri.
Yes, about that chimichurri! This one is made with cilantro, garlic, shallot, fresh red jalapeño, lime, and just a dab of honey. It's a departure from the classic Argentinian recipe, but it's got all the herb-acid-heat you'd expect, and it adds the perfect touch of sunny SoCal to this recipe. It's super zippy and refreshing.
A fresh, crispy salad would round out this steak beautifully — and you'll find a bunch of good ones in this collection.

Servings: 4 to 6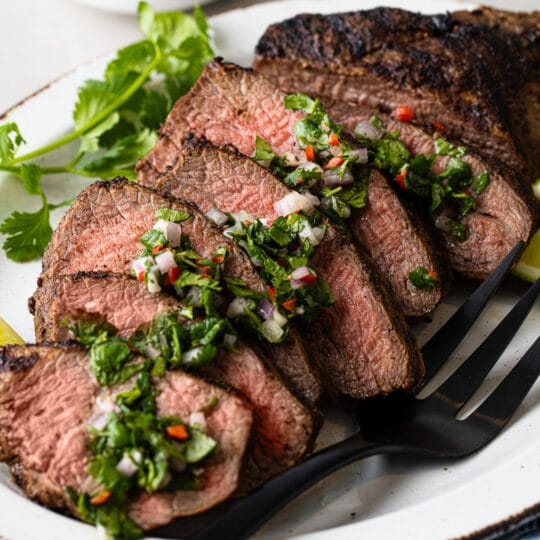 Dinner
Cumin-Crusted Tri-Tip With Cilantro-Lime Chimichurri