Recipes
Curried Carrot & Coconut Soup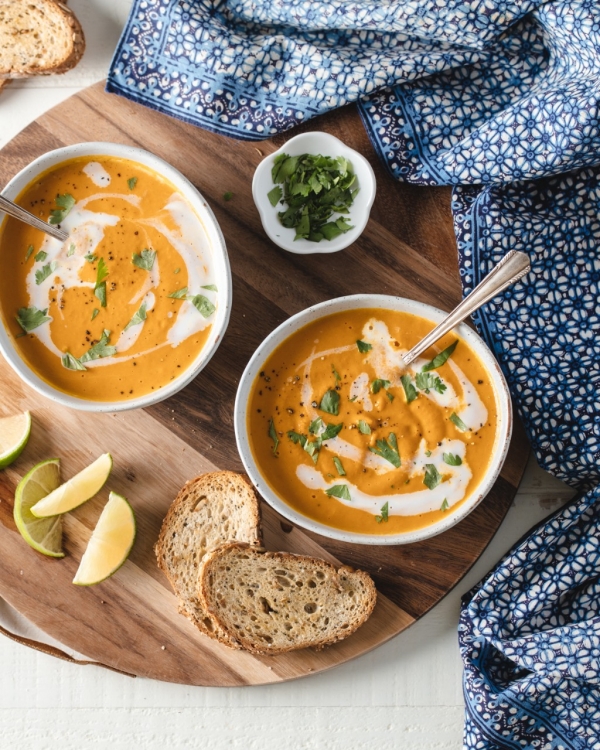 In the fall, we like a creamy soup full of warm spice, and this one fits the bill just perfectly. The earthy, sweet carrots, zesty ginger, mild curry spices, coconut milk, and cilantro meld together scrumptiously — and they look very autumnal and pretty, too. But our favorite touch might be the lime juice swirled through at the end. Its bright acidity shines through all that rich flavor and keeps things light, like a little flash of summer.
For a light lunch, we serve this soup with a side of toasted, buttered seed bread. It's so satisfying to dunk the crisp bread into the soup. A leafy green salad rounds out the meal nicely. A cup of carrot soup will also make a pleasing start to a larger meal — you could even float a homemade crouton or two in it for kicks.

Servings: 4
Ingredients
6 Tbsp butter
1 medium onion, roughly chopped
1 ½ lb carrots, peeled and cut into ½-inch coins
2 tsp fresh ginger, peeled and grated
1 tsp ground cumin
1 tsp ground turmeric
1 tsp ground coriander
¼ tsp cayenne pepper
4 cups chicken or vegetable stock
2 cups unsweetened coconut milk
1 lime, juiced
Salt, to taste
Freshly ground pepper, to taste
Cilantro, for garnish
Directions
In a large pot, melt the butter over medium heat until the foam subsides. Add the chopped onion, carrots, and fresh ginger, sprinkle with salt, and stir to coat the veggies with the butter. Cook for 5 minutes.

Add the dry spices. Stir and cook until fragrant, about a minute.

Add the stock: there should be enough to cover the veggies. Bring the stock to a boil over high heat. Reduce the heat to medium and continue cooking until the carrots are cooked through, about 10 to 15 minutes.

If you have an immersion blender, purée the soup in the pot. If not, wait until the soup cools slightly, and purée in a blender.

Add enough unsweetened coconut milk (and a little more stock or water if necessary) to bring the soup to the consistency you want. Adjust the seasoning and add the lime juice. Garnish and serve.
Recipe source: NYT Cooking