Dessert Recipes
Custard Toast
There's a lot to love about custard toast, the viral sensation on TikTok. After all, can you really go wrong with a pool of rich custard in the center of eggy brioche? No, you cannot! We're big fans of the fact that it's made not with a traditional stovetop custard, but an awesomely unfussy hack: Greek yogurt whisked up with an egg, honey, vanilla, cinnamon, and nutmeg.
This yogurt custard bakes up more tangy than you might expect: Its sweetness is subtle, with floral notes from the vanilla and honey and warmth from the baking spices. It's also lush and creamy — a lovely contrast with the crispy edges on the brioche.
We like to top our custard toast with a hodgepodge of berries — blueberries, raspberries, blackberries, and strawberries — to bring bright pops of juicy, natural sweetness to the bite. The finishing touch? A delicate dusting of powdered sugar.
That said, one of the great things about custard toast is that you can make it entirely your own. Our dream brunch scenario involves a custard toast bar where people can let loose with all sorts of toppings — apples, mango slices, dark chocolate chips, you name it. Put a pitcher of peach Bellinis on the assembly line, and it's bound to be a buzzy time.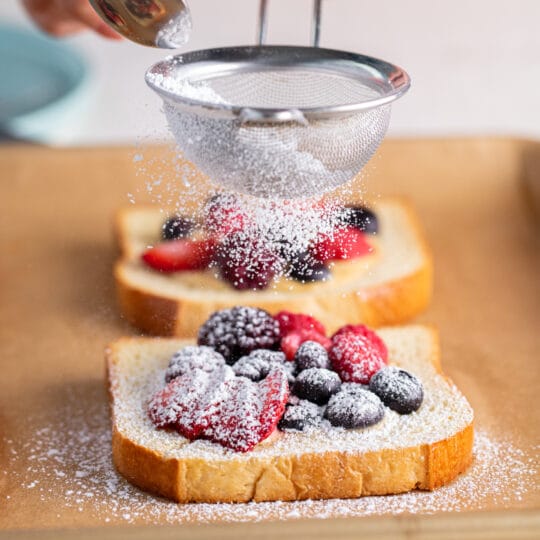 Dessert
Custard Toast
Serves: 4
Ingredients
2 tsp honey, plus more for drizzling
¼ teaspoon Gelson's ground cinnamon
⅛ teaspoon Gelson's ground nutmeg
⅓ cup strawberries, hulled and sliced
1 Tbsp confectioner's sugar, for dusting
Directions
Preheat the oven to 350º. Line a rimmed sheet pan with parchment paper.

In a medium bowl, whisk together the Greek yogurt, egg, honey, vanilla, cinnamon, and nutmeg until smooth.

Place the brioche slices on the prepared sheet pan. Use the back of a spoon to indent the bread and create a well in the center, leaving a ½" of crust on the edges.

Add about 2 tablespoons of custard to each well and spread it evenly.

Arrange the raspberries, blackberries, blueberries, and strawberries on top of the custard. If desired, drizzle the fruit with more honey.

Bake for about 10 minutes, until the custard is set and slightly jiggles when moved.

Sprinkle confectioner's sugar on top and enjoy hot.
Recipe adapted from: Jessica Gavin