Dinner Recipes
Deconstructed Cold Soba
If the word 'deconstructed' brings to mind shimmering foam blobs and artful ingredient piles — never fear, this is not that! It's simply an opportunity to build your own adventure with some buckwheat soba noodles, a mushroom broth, and a handful of green onions.
The heart of this dish is a broth that's super easy to make. We simmer shiitake mushrooms, tomatoes, anchovy paste, and chicken stock together to create a clear broth. And then we sauté a bunch of baby bellas in ginger, leeks, red pepper flakes, soy sauce, and a pinch of sugar, and stir them into it. The result is a hearty, flavorsome broth that has all the rich, umami bass notes you could want, plus layers of bright ginger-pepper heat. We could drink it, but it's amazing with the nutty buckwheat soba.
You can eat this deconstructed dish a couple of ways: The first is to treat the broth like a jus and dip bunches of noodles in it, which allows you to compose the perfect bite. The second is to simply combine the noodles and the broth and slurp them up. Either way, it will be fantastic. The noodles are nutty, and we love how the lemon zest complements that hearty broth. All those layers of flavor make it the kind of dish that you can eat on the weekly and never, ever tire of it — and it's so easy, why wouldn't you?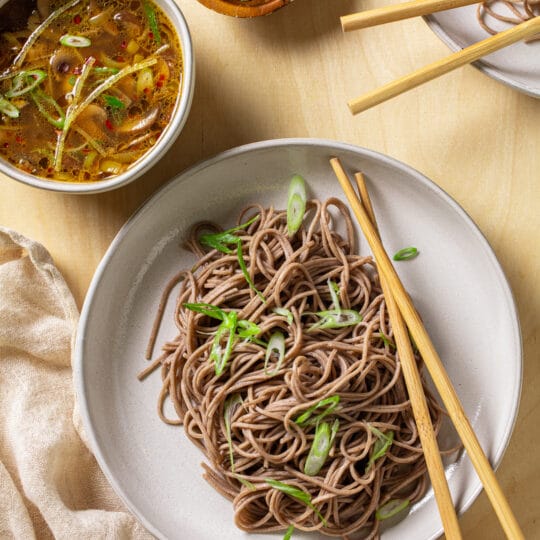 Dinner
Deconstructed Cold Soba
Serves: 4
Ingredients
4 oz shiitake mushrooms, halved or quartered if large
2 Roma tomatoes, quartered
1 leek, white part only, trimmed, halved lengthwise, and cut into ¼"-thick strips
1 tsp peeled and grated ginger
½ tsp Gelson's organic crushed red pepper flakes
8 oz baby bella mushrooms, thinly sliced
3 Tbsp soy sauce or tamari
3 green onions, thinly sliced on the bias, for garnish
Directions
In a medium saucepan, combine the shiitake mushrooms, tomatoes, anchovy paste, and chicken stock. Bring to a boil over medium-high heat, reduce to a simmer, and cook for 10 minutes. Strain the broth into a bowl and discard the vegetables.

Rinse the saucepan out, add the butter, and melt it over medium-high heat. Add the leek, ginger, and red pepper flakes. Cook, stirring occasionally, until soft, about 4 minutes.

Stir in the baby bella mushrooms and cook until softened, 2 to 3 minutes. Pour in the reserved broth, soy sauce, sugar, and mirin, and bring to a boil. Remove the pot from the heat, add the sesame oil, and stir to combine.

Bring a large pot of water to a boil, add the soba noodles, and cook until al dente, about 3 minutes. Strain the noodles in a colander and continuously rinse them with cold water until the water runs clear and the noodles no longer feel starchy.

Using a vegetable peeler, remove 2 large strips of zest from the lemon. Slice the zest into thin strips.

Divide the soba noodles between 4 serving plates and garnish them with ⅔ of the green onions. Divide the broth between 4 small serving bowls, and top each with the lemon zest and remaining green onions. Serve the noodles with the broth, hot or cold, for dipping.