Recipes
Deep-Fried Potato Skins & Smoked Salmon Recipe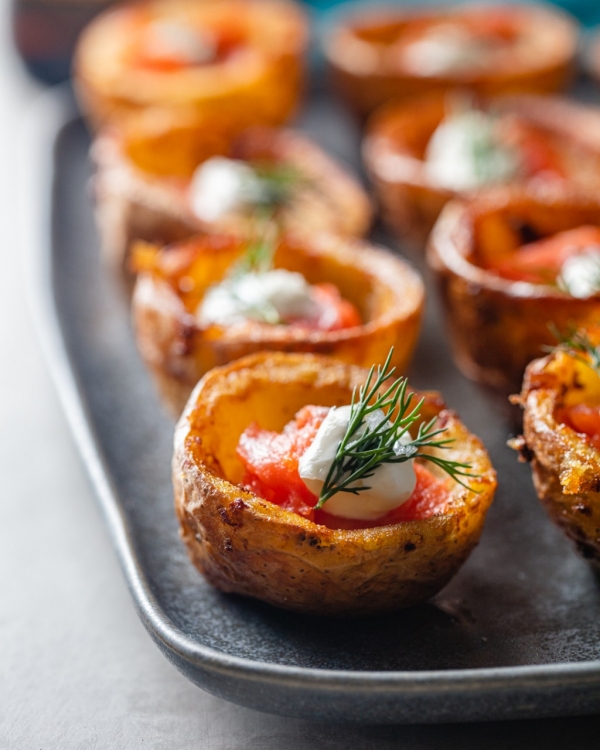 This recipe transforms the humble potato skin into a golden brown vessel for crème fraîche, smoked salmon, and dill. "How elegant and Scandanavian," said one of our tasters. How scrumptious, said we! It's basically a crispy starch bowl filled with salty, creamy, tangy, smoky love, and you get to eat the whole thing all by yourself.

The key to powerfully cute potato cups is the size of the potato: Cups made from small potatoes hold their pleasing shape — no wobbly walled russets here! They also fry up more evenly, so the skin is uniformly golden and crispy. They're fun to fry too, like little potato boats floating and bobbing around on the oil.
These little appetizers will be delightful at any sort of party, from cocktails to dinner or game night. You can bake them ahead and fry them off in batches as people start coming in the door. Be forewarned: They may look fancy, but they go down like French fries. Which is to say, make a double batch.
Our tip: It's hard not to imagine other toppings tucked into the potato skins. Once you've got the frying method down, there's nothing to stop you from filling them with a tiny meatball, a drizzle of marinara, and a wee basil leaf. A breakfast potato of scrambled eggs, sour cream, and bacon bits would also be swell. Crab salad, avocado, and chives? We say, yes!
Servings: 5 to 10
Ingredients for the Deep Fried Potato Skins with Salmon
5 Yukon Gold potatoes, ideally about 5 or 6 ounces each
Vegetable oil, for greasing the potatoes and deep-frying
Kosher salt, to taste
Crème fraîche, for serving
4 oz Gelson's thinly sliced Scottish smoked salmon, for serving
Gelson's organic fresh dill sprigs, for garnish
How to Make the Deep Fried Potato Skins with Salmon
Preheat the oven to 375°. Set a rack on a baking sheet lined with paper towels.

Using a fork, puncture the potatoes in several spots. Rub each potato with a light coat of oil. Arrange the potatoes on the rack on the baking sheet and bake until just tender, 30 to 45 minutes. Let the potatoes stand until cool enough to handle.

Cut the potatoes in half horizontally, carefully slice off the very bottom of each half so that the cups will stand up, and use a small spoon to scoop most of the potato flesh into a medium bowl, leaving a layer of potato flesh roughly ¼-inch thick all the way around. Set the potato cups aside.

Line a rimmed baking sheet with a clean rack and paper towels. In a large Dutch oven, heat 2 ½ inches of oil over high heat until it reaches a temperature of 365°.

Carefully lower each potato cup into the hot oil. Cook the potato cups, gently stirring and submerging occasionally, just until they are golden brown and crispy, 4 to 5 minutes. Transfer the fried potato cups to the baking sheet to drain upside down.

Transfer the potato cups to the clean rack. Season the cups with salt on all sides, and then turn them upside down to fully drain. Repeat step 5, 6, and 7 until all of the potato cups are fried.

Once the cups are cool enough to handle, arrange them on a plate, and fill each one with a generous dollop of crème fraîche, smoked salmon, and a sprig of dill. Serve immediately.
Recipe adapted from: Serious Eats
Calculate nutrition information for this recipe.