Snacks Recipes
Dehydrated Watermelon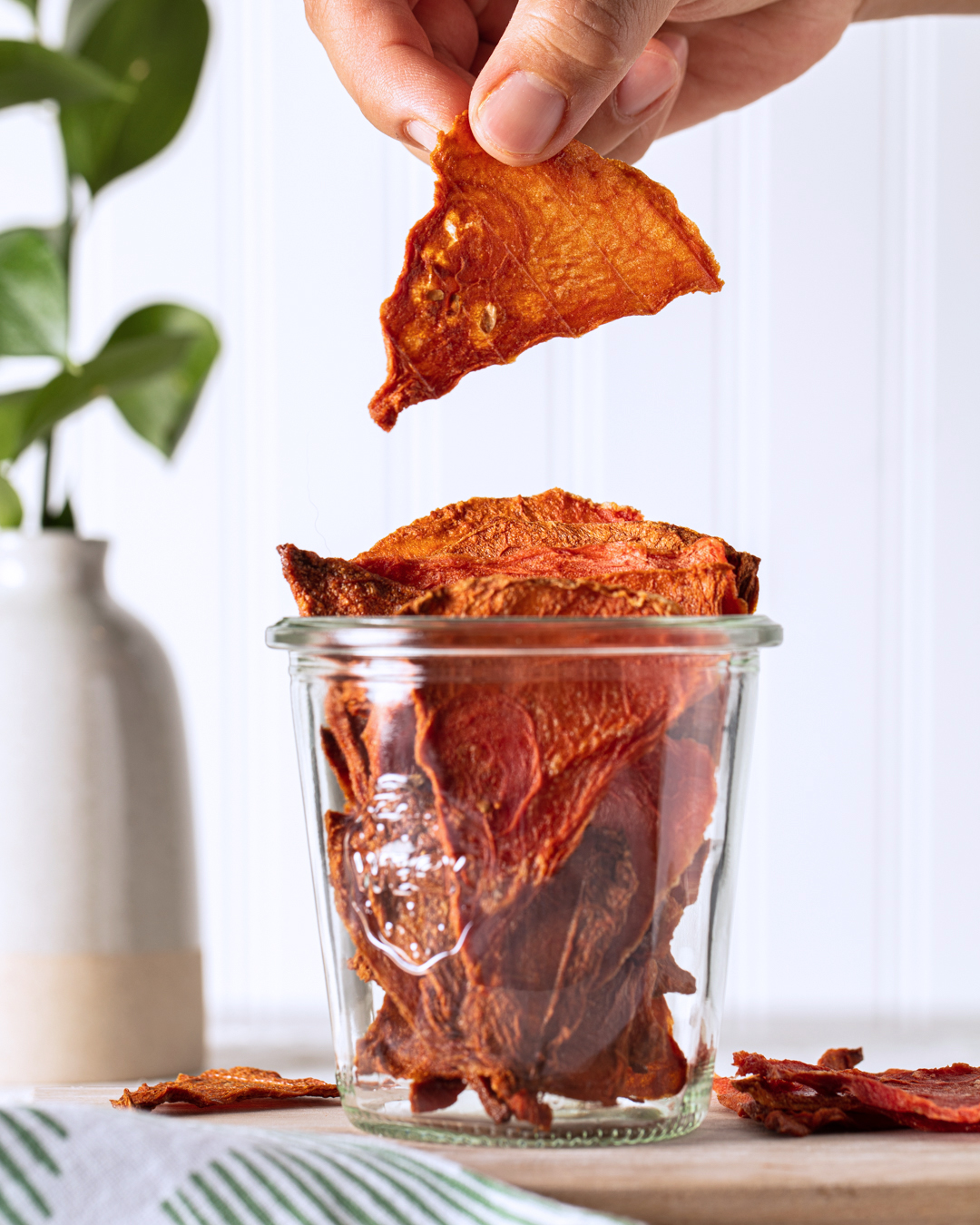 Here's a riddle: What's healthier than a Jolly Rancher, more portable than a watermelon, and easier to make than a fruit roll-up? The world's best dried fruit — dehydrated watermelon! It's sweet and chewy with a pleasant vegetal taste that you don't get from the fresh stuff. Best of all, you don't even need a dehydrator to make it.
But you do need an oven. We slice the watermelon super thin, drizzle the triangles with lime juice to give it some zip, and then let it dry out in a hot oven for about five hours. The edges get a wee bit crispy in there, which we love — it's a great contrast to the fruit-leather-y texture in the middle.
Dehydrated watermelon is great for all manner of summer snacking. Put some in your fanny pack for post-hike nibbles. Tuck some in your kid's lunch bag before sending them off to day camp. Bring it on your next road trip or campout, along with the Cheetos and trail mix.
Servings: 8 to 12
Ingredients
1 mini seedless watermelon
Juice of 1 lime
Cooking spray
Directions
Preheat the oven to 400°. Place 3 wire racks onto 3 rimmed baking sheets. Spray each wire rack with cooking spray.

Cut the rind off the watermelon and slice the watermelon into ¼"-thick triangles.

Place the slices on the wire racks, leaving ¼" between each slice. Drizzle the slices with lime juice.

Bake for 5 to 5 ½ hours, or until the slices have dried out and are quite thin, like chips.

Immediately remove the slices from the wire racks and place on a piece of parchment to cool.

Enjoy immediately or store in an airtight container for up to 10 days.
Calculate nutrition information for this recipe.