Breakfast Recipes
DIY Cherry Toaster Strudel
Toaster strudel brings back all sorts of childhood memories for us. Memories of pulling one out of the freezer, popping it in the toaster oven, drizzling the icing into hearts, stars, and silly faces — and then eating it on our walk to the bus stop.
Turns out, toaster strudel is even more comforting when it's homemade! Here, we use our signature pie crust recipe, and then simmer cherries, lemon, and sugar for the filling. The bite is flaky and buttery, sticky and jammy, sweet-tart and scrumptious. We could eat homemade toaster strudel again and again … and again.
Luckily, it's an easy recipe, so we can eat them on repeat. A couple tips from the test kitchen: If your pie dough gets too warm to work with, pop it in the freezer for 10 to 15 minutes to firm things up. Also, be sure to cook the cherry filling all the way to 220º, and then let it cool completely. That way, it'll thicken up and won't leak out of the sides of the pastry.
The finishing touch is, of course, a drizzle of creamy icing. This one hardens nicely, so you can store the baked cherry toaster strudels at room temp. Also an option: put some in the freezer, and then bake a couple first thing in the morning for a piping-hot breakfast on the go — for the kiddos and the kids at heart.
One more tip for the road: feel free to swap in your favorite fruit for the filling — raspberries, strawberries, you name it!
Yield: 8 pastries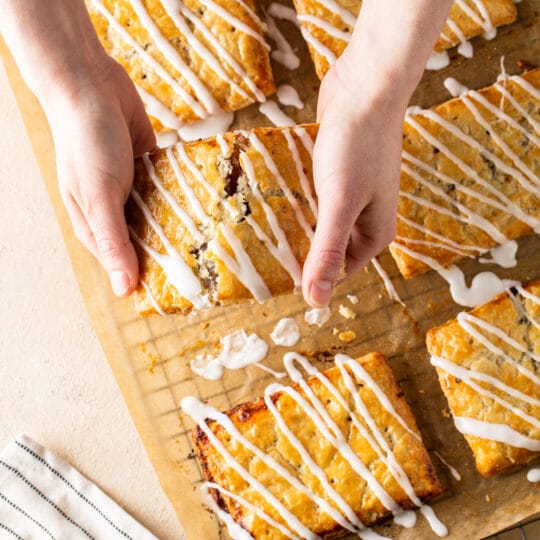 Breakfast
DIY Cherry Toaster Strudel