Appetizer Recipes
DIY Cocktail Sauce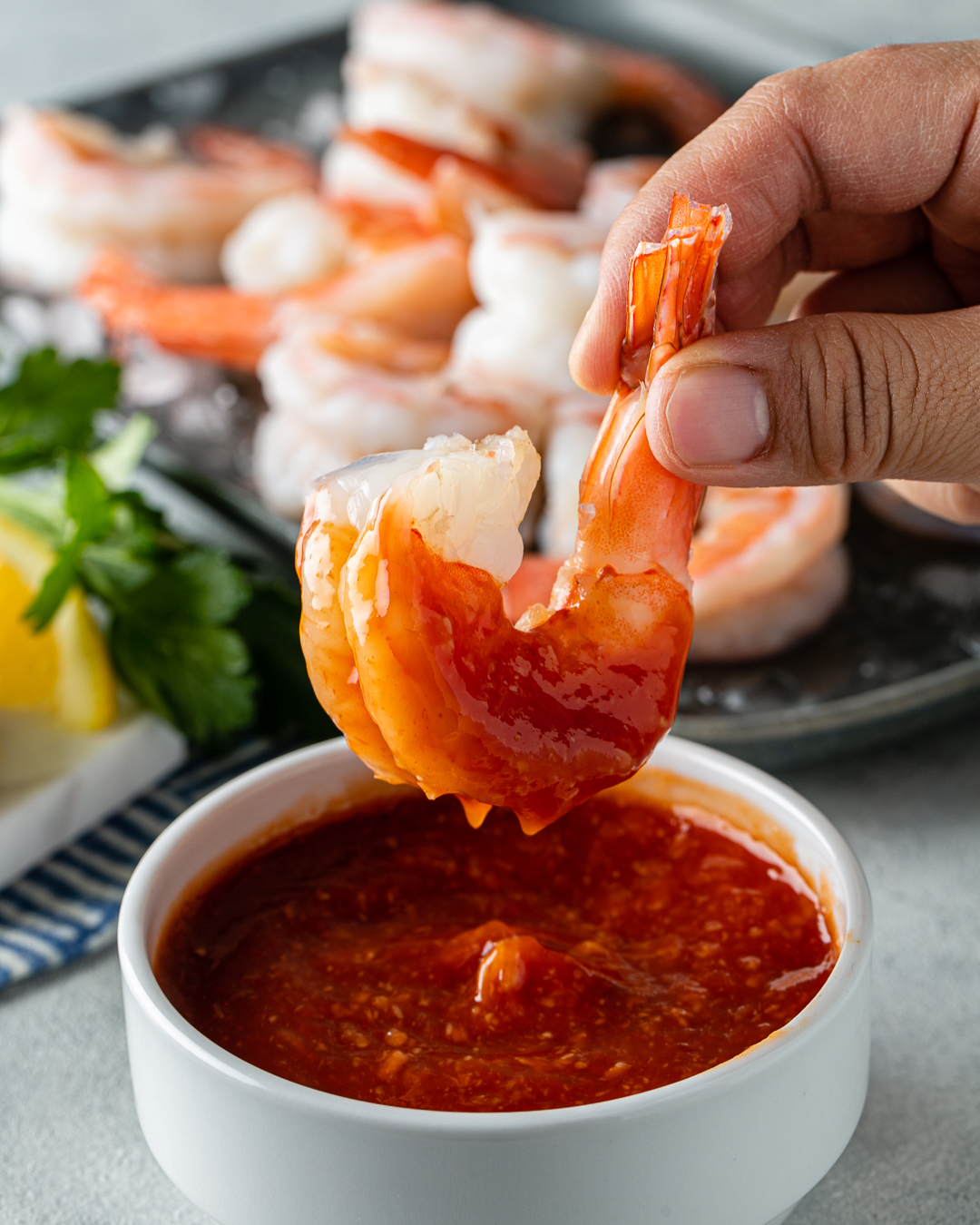 Imagine an old-school steakhouse, the kind with dim lighting, cozy banquettes, and oversized leather menus. The lighting is flattering and the atmosphere is divine. When the tuxedo-clad waiter stops by, you say, "I'll start with the shrimp served with your signature cocktail sauce." "Very good choice," he responds, shimmering away.
Your household may be running low on steakhouse ambiance right about now, but at least it's easy to enjoy shrimp cocktail at home. We developed this recipe to recreate the taste of classic cocktail sauce with a brilliant balance of sweet ketchup, peppery horseradish, umami-rific Worcestershire sauce, and zingy lemon juice. Although we think it's got the sweet-spice ratio worked out, do feel free to dial the spice-o-meter up or down by adding more or less horseradish and hot sauce.
Once you've got the sauce together, shrimp cocktail is one of the easiest appetizers around, especially if you get the shrimp in the Gelson's seafood department. We steam, peel, and devein the shrimp in house, fresh, every day. But we use it on all kinds of dishes. It brings depth and lemony brightness to other seafood, like oysters, clams, and crab. And consider venturing beyond seafood and using it to top a burger, deviled eggs, or next Sunday's brunch omelet. "Very good choice" will always be the right description, no matter how you're using this delectable sauce.
Our tip: Use a funnel to pour your cocktail sauce into a pretty bottle or jar that's just sitting in the cupboard. It'll be even easier to use on everything. The sauce will keep for up to one week refrigerated.
Yield: About ½ cup
Ingredients
½ cup ketchup
2 ½ tsp prepared horseradish
4 tsp freshly squeezed lemon juice
1 tsp hot sauce
1 tsp Worcestershire sauce
1 garlic clove, grated
Gelson's steamed jumbo shrimp, for serving
Lemon wedges, for serving
Directions
In a small bowl, combine the ketchup, horseradish, lemon juice, hot sauce, Worcestershire sauce, and garlic until thoroughly mixed.

Serve with the steamed shrimp and lemon wedges.

Leftovers will keep in a closed container in the refrigerator for up to 1 week.
Calculate nutrition information for this recipe.