Snacks Recipes
DIY Potato Chips
We could wax poetic about potato chips for days — they're snack royalty! But in the essence of getting that goodness into your mouths as quickly as possible, we'll cut to the chase: These DIY potato chips are some of the most delicious ones we've ever tasted.
They're so thin, so delicate, they practically melt in your mouth … but not before you taste the salty potato flavor and hear that ubiquitous crunch, crunch, crunch. So satisfying! One of our tasters went so far as to describe these chips as "potato air." Another countered, "Yes, but it's crunchy potato air."
All that to say, if you fancy yourself a potato-chip connoisseur, these homemade chips won't ruin the bagged ones for you — but they might make you a little bit pickier!
Some tips from the kitchen: We like to use a food processor to cut our potatoes ultra thin, though a mandoline also works. Just don't try to slice them by hand! It'll be hard to get them thin enough, and slimy potatoes make for dangerous knife work. Also, be sure to turn on the kitchen fan — like all fried goodies, these potato chips will fill the house with the smell of hot oil.

Servings: 2 to 4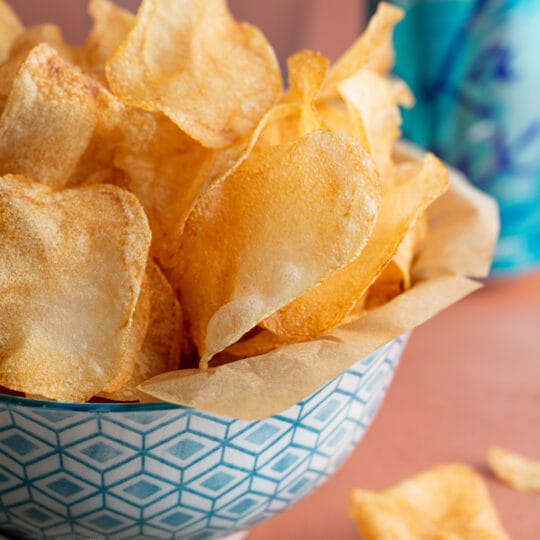 Snacks
DIY Potato Chips
Ingredients
4 large russet potatoes, peeled
1 qt peanut or canola oil
Special equipment: Mandoline and cutting glove or slicing blade for the food processor, candy thermometer, and spider or metal mesh strainer.
Directions
Line 2 large sheet pans with paper towels. Fill a large bowl with very cold water and stir in the salt until dissolved.

Slice the potatoes very thin using a mandoline and a slicing glove (the potatoes will be very slippery.) Alternatively, you can use a food processor fitted with the slicing blade.

Transfer the sliced potatoes to the bowl of salt water and soak them for 30 minutes.

Drain and rinse the slices three times, and then transfer the potato slices to one of the prepared sheet pans to dry. You can put multiple layers of potato on one sheet pan: just cover each layer with a layer of paper towels.

In a medium, high-sided Dutch oven, heat the oil to 350° using a candy thermometer.

Fry the potato slices in batches, about 1 cup at a time, stirring continuously but gently, until they're a light golden brown, about 3 minutes.

Using a spider, scoop the fried potato chips out of the hot oil, and transfer them to the second prepared sheet pan to cool. While they're still hot, sprinkle with sea salt.

Repeat steps 6 and 7 until all the potatoes are fried. Store the chips in an airtight container for up to three days. (Who are we kidding? There won't be any.)
Recipe adapted from: All Recipes