Beverage Recipes
DIY Starbucks Caramel Macchiato
Don't you just love treating yourself to a Starbucks caramel macchiato? We sure do. So, you'll be not-at-all shocked to hear we were psyched when DIY versions of the buzzy drink started popping up all over TikTok. This one is just as satisfying as the real deal — if not more so because you make it yourself.
It all starts with a homemade vanilla bean syrup that infuses the espresso with rich layers of flavor: it almost tastes like there's a little bourbon in the mix. Next up? The steamed milk, which creates a super rich, super creamy cloud of foam … that then gets a generous drizzle of buttery, sweet homemade caramel. We love the nuttiness and hint of salt that the caramel adds to the coffee — so decadent.
And would you just look at that ombré? This caramel macchiato is almost too pretty to drink. Almost.
Our tips: If you're feeling especially indulgent, add a swirl of whipped cream before drizzling on the caramel; it makes the macchiato all the more ooh-la-la. Also, you can use leftover vanilla syrup and caramel sauce for all sorts of goodies — think fancy cocktails, ice cream drizzles, and classic vanilla or caramel lattes.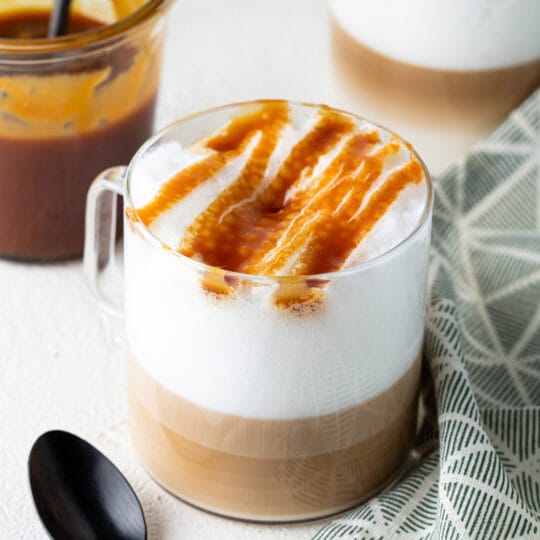 Beverage
DIY Starbucks Caramel Macchiato
Serves: 1
Ingredients
¼ cup heavy whipping cream
For the caramel macchiato:
Whipped cream, if desired
Caramel sauce, for drizzling
Special equipment: espresso maker and milk frother
Directions
To make the vanilla syrup: In a small saucepan, combine the water and sugar over medium heat, stirring occasionally, until the sugar has dissolved, about 3 minutes.

Remove the simple syrup from the heat and stir in the vanilla bean paste. Set aside to cool.

To make the caramel sauce: In a medium saucepan, cook the sugar over medium heat, swirling the pan frequently, until all the sugar has dissolved and turned an amber color, about 6 to 8 minutes.

Add the butter to the pan, stirring continuously until all the butter has melted.

Carefully add the heavy cream and a pinch of salt, and whisk until the mixture is smooth. Remove from the heat and set aside to cool. Note: leftover vanilla bean simple syrup and caramel sauce can be stored in airtight containers in the refrigerator for up to 2 weeks.

To make the caramel macchiato: Using an espresso maker, prepare one shot of hot espresso.

Froth the milk, and transfer it to a mug.

Add the vanilla syrup, and then the espresso. Garnish with whipped cream, if using, and a drizzle caramel sauce. Serve warm.
Recipe adapted from: Best Coffee Recipes
Calculate nutrition information for this recipe.